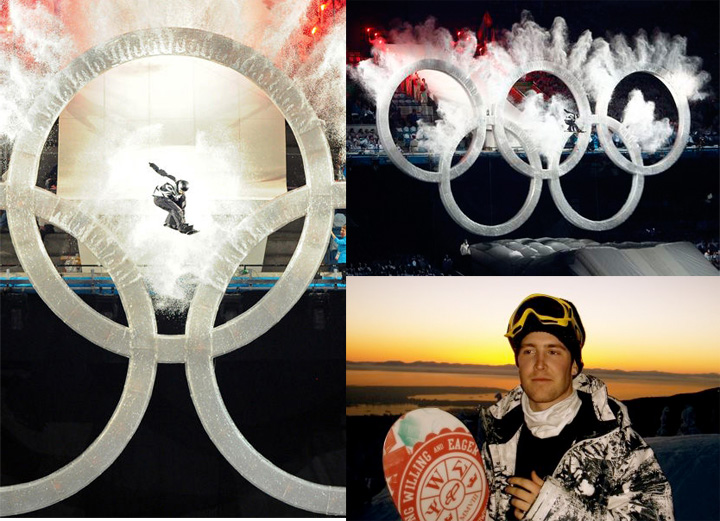 冬季五輪21回目にして初めて行われた屋内セレモニー。あの感動的なオープニング・セレモニー、あなたもきっとテレビでご覧になったのでは!
五輪セレモニーでパフォーマンスするライダーの名前。それは、オリンピック進行の中では誰にも明かせない極秘のことだった。しかし、昨日のセレモニーの後、Endevor Snowboardsは、それはウチのチーム・ライダーのJohnny Lyallである!と高らかに宣言した。
感動的五輪でスノーボードの魅力を伝えた立役者!見事に大役をこなしたバンクーバー・ブランドEndevor Snowboardsのジョニー。
5万人以上の大観衆が見守る中で、世界何億という人たちが注目する状況で、五輪の輪からエアーをした時、ジョニーはどんな気持ちだったのだろう?
ジョニーは、これまでdmkニュースで何度か紹介しているNuuLife Cinemaに登場しているライダーだ。

Johnny Lyall and Katal Innovations kick of the 2010 Olympics!!! from NuuLife Cinema on Vimeo.

ENDEAVOR SNOWBOARD TEAM MEMBER JOHNNY LYALL LAUNCHES OPENING CEREMONIES FOR 2010 OLYMPIC WINTER GAMES
Epic Heli Footage Merges Into Big Air Through Olympic Rings
VANCOUVER, BC February 13, 2010 – Last night the world saw a snowboarder open the celebrations for the 2010 Olympic Winter Games by airing through the rings. Endeavor Snowboards is stoked to announce that snowboarder was their own Johnny Lyall.
"To welcome the games is mind-boggling and totally overwhelming. Last night was definitely a moment of a lifetime I am never going to forget," says Johnny. "When I was walking out there I tried to block everything out; forget about how many people were watching and just concentrate on landing the jump. When the doors opened, I saw a million camera flashes go off and I knew it was on."
Before Johnny dropped in, epic footage taken at Mike Wiegele Helicopter Skiing in Blue River, BC last April showcased legit and stylish big mountain snowboarding to a live audience of 60,000 and an estimated television audience of 1 billion with nary a triple cork to be seen. Johnny and pro riders Shin Campos, David Aubry and Benji Ritchie provided the action for the segment edited to look like one rider. A spectacular, timed, light effect filmed in May on Whistler Mountain's glacier revealed a gigantic maple leaf and capped the footage segment before cutting to live action of Johnny launching through the rings.
Shin Campos played a big role alongside Johnny for the Opening Ceremonies with both riders rehearsing and training for the ring jump. They had to wait until Thursday February 11, the day before the event, to find out who would be chosen to open the Winter Games.
"After the practice on Thursday David Atkins, the show producer, came walking across the floor and we knew we were finally going to find out who was going to jump," says Johnny. "He told us he couldn't choose who was the best since Shin and I were both doing it perfectly. He pulled out a coin and flipped it to decide and, lucky for me, I won."
Endeavor Snowboards couldn't be prouder of their boy J-Bone. "Johnny personifies Canadian snowboarding and I couldn't be more proud of him welcoming the world to Vancouver and the 2010 Olympic Winter Games. Well done kid!" says Max Jenke, CEO Endeavor Snowboards.
Besides watching Johnny open the world's biggest sporting event with a daring feat you can see him ride in 8 MILE's "Time of Your Life."

http://www.endeavorsnowboards.com