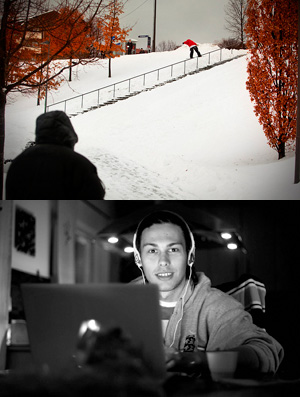 カナダ・バンクーバーに拠点を置き、グラフィティ・デザインが印象的なスノーボードENDEAVOR。新たにスゥーデン出身のレール・マスターKAREEM EL RAFIEが加入した!
SWEDEN'S KAREEM EL RAFIE JOINS ENDEAVOR SNOWBOARD TEAM
Endeavor's Creative Arena Perfect Fit For Founder of Frontline Jam, Europe's Biggest Rail Comp
VANCOUVER, BC February 11, 2010 – Endeavor Snowboards has signed Sweden's Kareem El Rafie to their team. A Swedish rail slayer who calls downtown Stockholm one of his "home mountains," Kareem is set to bring his creativity to the forefront of this Vancouver based snowboard company run by snowboarders, for snowboarders.
"For me snowboarding is an art form where you can express your own view of snowboarding through your tricks, your style and the different ways you can ride the terrain you come across," says Kareem. "I'm really stoked to be on Endeavor. I instantly vibed with the boards and I am stoked on the people running it. They are a 100 per cent rider-driven snowboard company with roots in my favorite places on earth, Whistler and Vancouver."
For Kareem, who is also the founder of Frontline Jam, one of Europe's biggest rail comps, riding for a snowboard company with soul was important. "I wanted to be with a team focused on the roots of snowboarding, not just profit. Endeavor follows their own path, not the mainstream hype," says Kareem.
"Passion, style and drive are just a few of the many reasons I wanted Kareem on Endeavor," says current Endeavor pro Kevin Griffin, who enlisted Kareem to become a part of the team.
"I want to develop a team of like-minded riders and individuals who fit the Endeavor image and understand what the brand is all about. Having Kevin bring on talent like Kareem really makes the team a family," says CEO Max Jenke. "Hanging with Kareem at ISPO was amazing – he's a perfect fit to the crew and and as an ambassador for Endeavor."
For Kareem the 2010 season is going to be about hitting Stockholm's rails through to the end of February before heading west to hook up with the 8 Mile crew in Whistler's backcountry to ride powder, sled and send it.
You've seen Kareem El Rafie in:
"That," and "First Chair / Last Call," Forum Snowboard Team videos; "Notes," and "They Came From…" Factor Films; "Pony Tale," Actionhorse Films; and "Pleasure Inc." Sugarshack Productions.

http://www.endeavorsnowboards.com