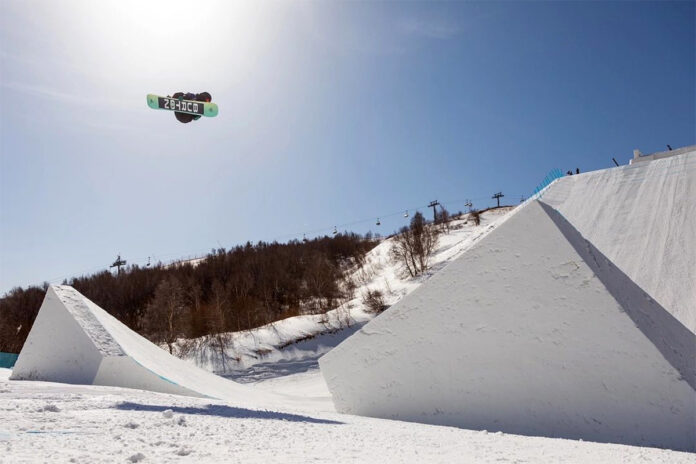 Slopestyle is down a course including a variety of obstacles including rails, jumps and other terrain park features. Points are scored for amplitude, originality and quality of tricks. Slopestyle has become an official event from the 2014 Sochi Olympics.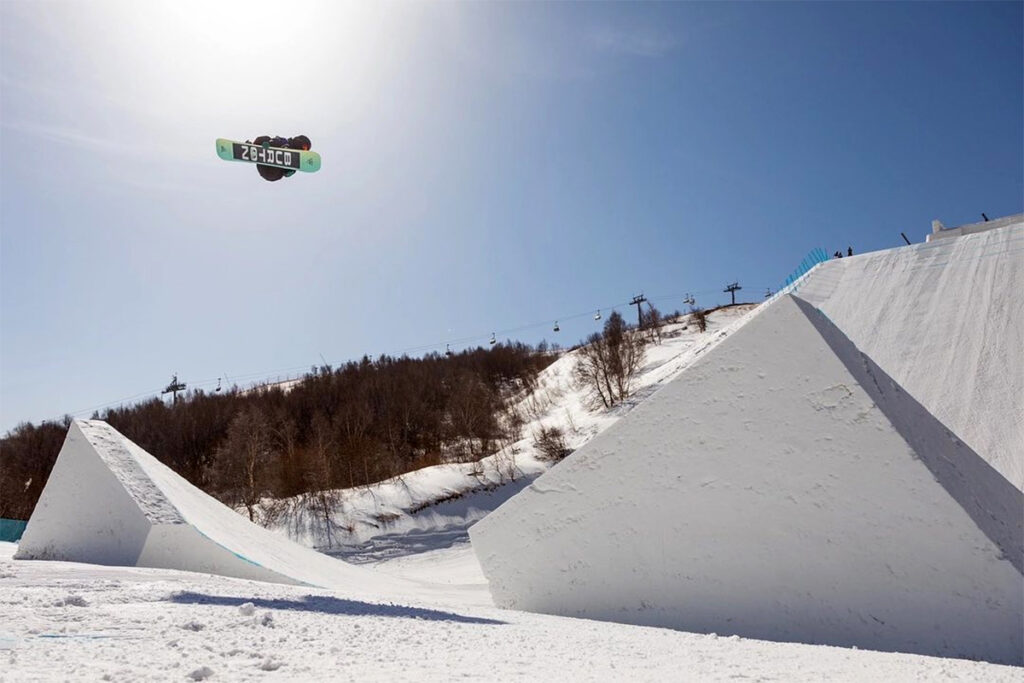 Overview
Slopestyle is when athletes go down a course including a variety of obstacles including rails, jumps and other terrain park features. Points are scored for amplitude, originality and quality of tricks.
Slopestyle tricks fall mainly into four categories: spins, grinds, grabs and flips; most tricks done in competition are a combination of these.
Amplitude: Height of jumps, also called air. Bigger tricks score higher.
Difficulty: Degree of difficulty of the tricks.
Execution: How well the athletes perform their tricks. For example tight rotation, clean grabs, and smooth landing.
Variety: The difference of the tricks within the run. Doing the same trick of all the jumps will not score highly even if it is a very difficult trick.
Progression: How the trick selection progresses the sport, for example brand new tricks will score high because they push the sport forward.
Combinations or flow: The way the athletes string the tricks together. Having to slow down or otherwise reset after a trick will lose points.
Overall: The whole package, including the athlete's personal style.
Two qualifying rounds and three final rounds will be contested for the best points.
There are 6 slopestyle judges, each of whom will score. Of the scores given, the highest and lowest points are rounded down, and the average of the remaining points is the score.
In slopestyle, it is the fall that affects the scoring. Once they fall, they lose the speed to move to the next section, so you have to give up at that point. In addition, points will be deducted even if they lose their balance or touch a little on snow.

The first Olympic champions for Snowboarding Slopestyle were both Americans, Sage Kotsenburg for the men and Jamie Anderson for the women.
There is a facility called a park when you go to a ski resort, the slopestyle course is the same thing, just on a much grander scale. There are many lovers of park riding all over the world, with new facilities like this being built, the evolution of competition is fierce, and the trick that won the championship a year ago often does not work. I am looking forward to seeing how difficult the new tricks at the Olympics will be.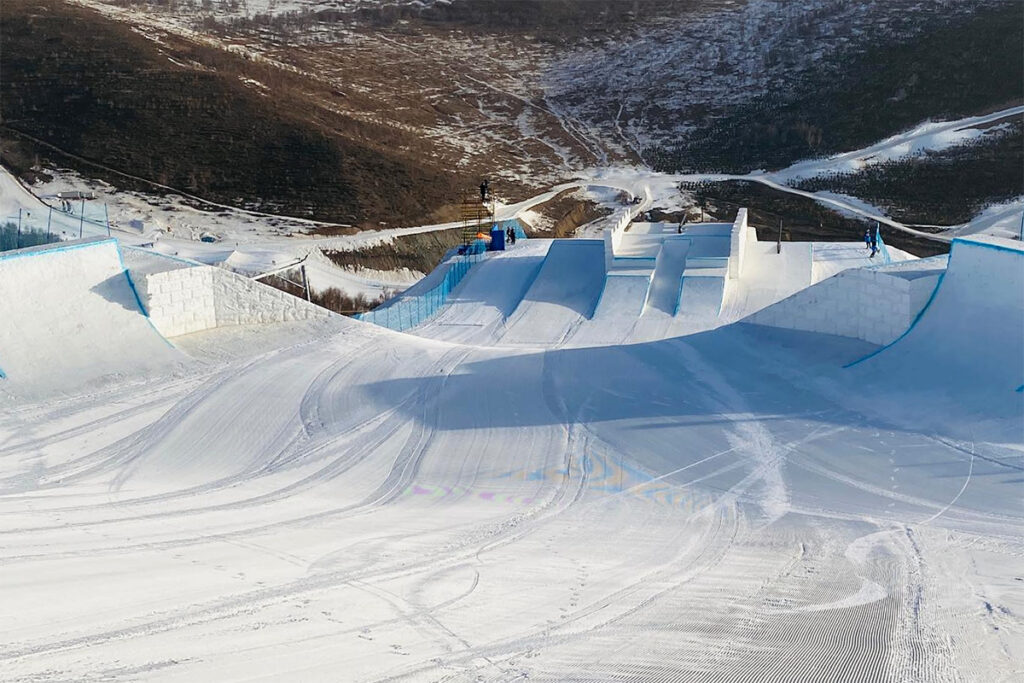 Venue: Genting Ski Resort(雲頂滑雪度假村)
The Genting Snow Park(云顶滑雪公园), located in the east of Chongli County of Zhangjiakou(张家口), is four kilometers away from the Olympic Village. It is located in Hebei.
For skiing and snowboarding, there are 16 km of slopes and 1.3 km of ski routes available. 5 lifts transport the guests. The winter sports area is situated between the elevations of 1,702 and 2,100m.
The Genting Snow Park A and B will be the venues for Freestyle Skiing and Snowboard competitions. Each of them have a capacity of 7,500 spectators, with 5,000 fixed seats.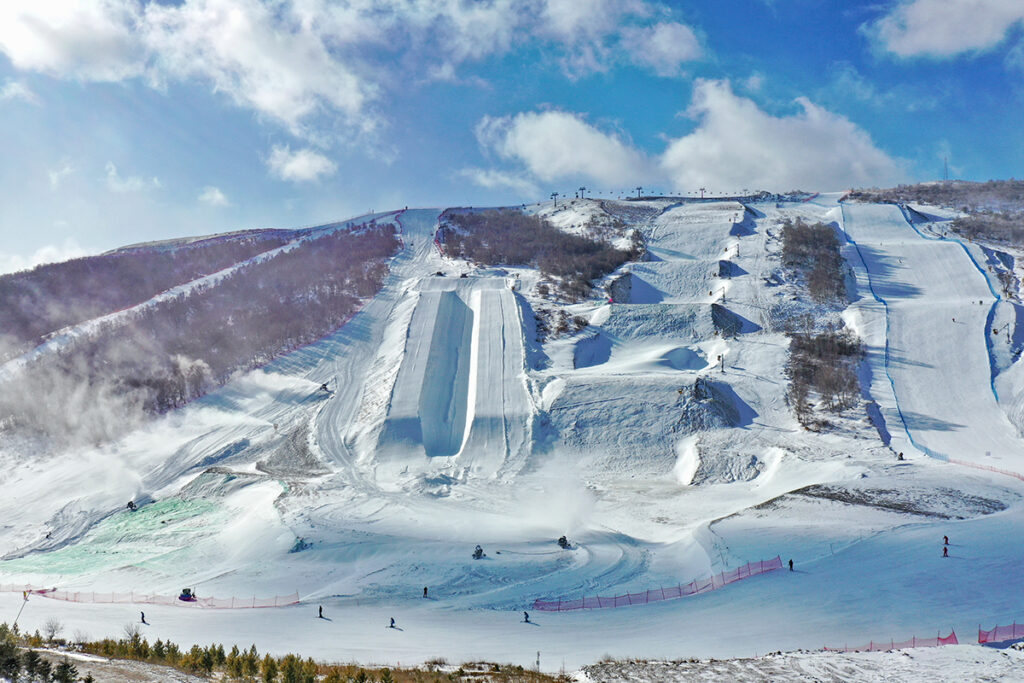 Schedule: Feb 5-7
Saturday, February 5
Women's Snowboard Slopestyle Qualifications
Sunday, February 6
Women's Snowboard Final + Men's Qualification
Monday, February 7
Men's Snowboard Slopestyle Finals
For more details, please follow the link below
https://medias4.fis-ski.com/pdf/2022/SB/6063/2022SB6063PROG.pdf
Featured Riders
Introducing the Featured Riders who are likely to play an active part in the Beijing Olympics.
The athletes who participate in Slopestyle are the same as the athletes who participate in Big Air.
Mark McMorris
Date Of Birth: December 9, 1993
Nationality: Canada
@markmcmorris
2021 Cup Standings: 7th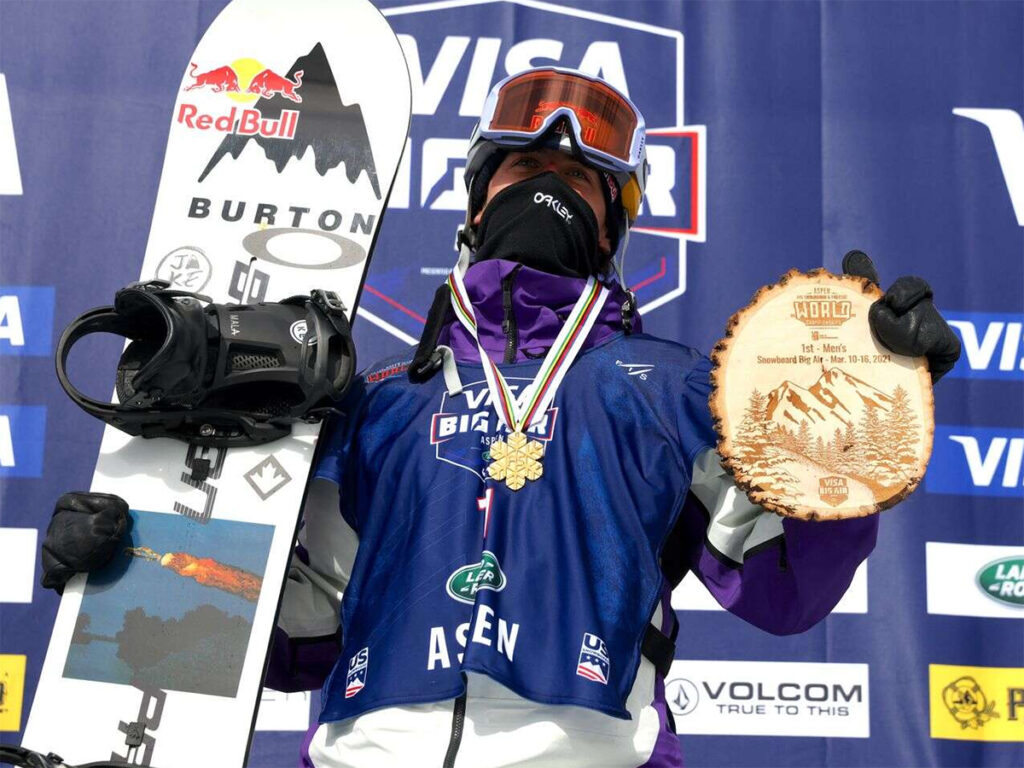 One of the most successful athletes in competitive snowboarding history.
He won 2 Olympic Medalists, 20 times X Games Medalists, 4 US Open Champions, also an ESPY Winner.
He has many brilliant results, on the other hand, he had many hardships.
At Sochi 2014, he won bronze in the Olympic debut of snowboard slopestyle for Canada's first medal of the Games. That came just two weeks after he broke a rib at the Winter X Games in Aspen.
In February 2016, he broke his right femur on a crash landing at Air + Style big air comettion in Los Angeles. After eight months, he had a stellar comeback season in 2016-17, which included a victory at the big air World Cup that doubled as the test event for the PyeongChang 2018.
But in late March he sustained multiple injuries in a backcountry snowboarding accident, including fractures to his jaw, left arm, pelvis and ribs as well as a ruptured spleen and collapsed left lung, meaning he would have to make yet another comeback. He won the first competition he entered, a big air World Cup in Beijing in late November 2017. He went on to win his second straight Olympic slopestyle bronze medal in PyeongChang.
In February 2021, he participated in the Swiss World Cup to go to the Beijing Olympics. However, when he went to Switzerland, he was found to be hanging on covid-19 and he was unable to participate. However, he won the gold medal at the Big Air World Championships held in Aspen the following month.
FYI, Mark's brother Craig is also pro-snowboarder. He is a professional snowboarder in the movie, leaves footage on the street as much as his young brother.
He also famous commenter for Olympics and X Games. His funny comments are popular all over the world!
I wonder how such a talent brother was born in Saskatchewan, a land without slopes.
Maxence Parrot
Date Of Birth: June 6, 1994
Nationality: Canada
@maxparrot
Cup Standings: 15th
Stance: Goofy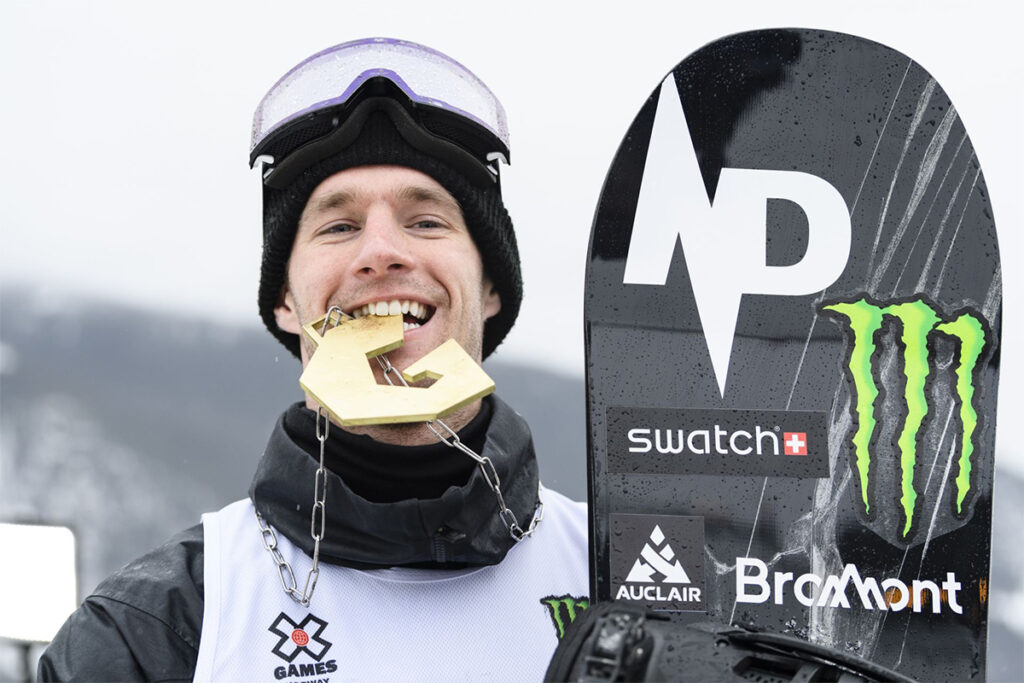 Maxence "Max" Parrot is a seven-time X Games champion and Olympic silver medalist. He represented Canada at the 2014 Winter Olympics in Sochi and the 2018 Winter Olympics in Pyeongchang, winning the silver medal in the latter.
Parrot was born and raised near the Bromont ski area in Quebec. He began skiing at age 3 and discovered snowboarding at age 10. His father, Alan Parrot, was an alpine ski racer national hopeful and Canadian waterski champion.
Helping him improve is a facility called MAXIMISE in his home of Quebec. MAXIMISE has an air mat that you can make big jumps even in the summer, also they have trampoline that you can practice tricks. In addition to Max, Maximum also supports Sébastien Toutant(PyeongChang Olympic Big Air Gold Medalist) and Laurie Blouin(PyeongChang Olympic slopestyle silver medalist) practice.
Parrot has made snowboarding history four times. In 2013 he laid down the first Backside Triple Cork ever seen in an X Games Slopestyle event. In 2014, Parrot was the first to land consecutive Triple jumps in a Slopestyle run at the X Games. In April 2015, Parrot performed the very first Cab Quadruple Underflip 1620. In January 2016, he brought the Cab 1800 Triple Cork into competition at X Games in Aspen, earning him his second Big Air gold medal. He competes in slopestyle and represented Canada in this event at the 2014 Winter Olympics in Sochi. Parrot has won a gold and silver medal each in both slopestyle and the big air events at the Winter X Games.
Parrot participated in the PyeongChang Olympics and won a silver medal in slopestyle. However, he finished in 9th place in Big Air, where he is good at.
In December 2018, Parrot was diagnosed with a cancer called Hodgkin's lymphoma. And he achieved a miracle comeback victory at the X Games Big Air on August 31st in Norway.
Marcus Kleveland
Date Of Birth: April 25, 1999
Nationality: Norway
@marcuskleveland
2021 Cup Standings: 1st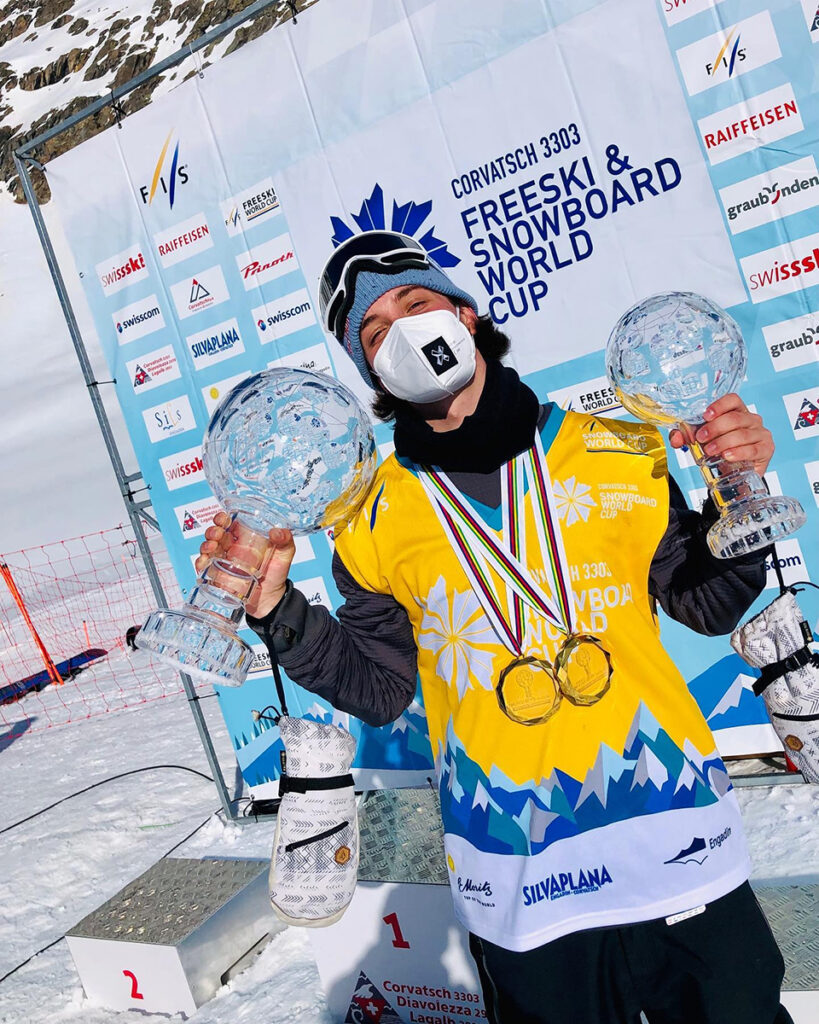 Marcus Kleveland is a professional snowboarder who has expressed extraordinary talent since he was young. His riding was sometimes compared to his home country Norwegian hero Terje Håkonsen.
In 2018, he won 2 medals at Winter X Games : Gold at Slopstyle and a 2nd place at Big air. After the Winter X Games he won a 3rd place at 2018 Burton US Open Slopestyle.
Especially in the 2020-21 season, it was a big success. Won many competitions, in the Big Air event at X Games 2021 he took home gold.
He is also famous for knuckle tricks. Knuckle tricks are done using the flat part of the jumping platform and the landing slope. His Instagram has a lot of knuckle trick footage and is very popular. It's fun to watch, so it makes you forget the time.
Jamie Anderson
Date Of Birth: September 13, 1990
Nationality: United States
@jamieanderson
2022 Cup Standings: 4th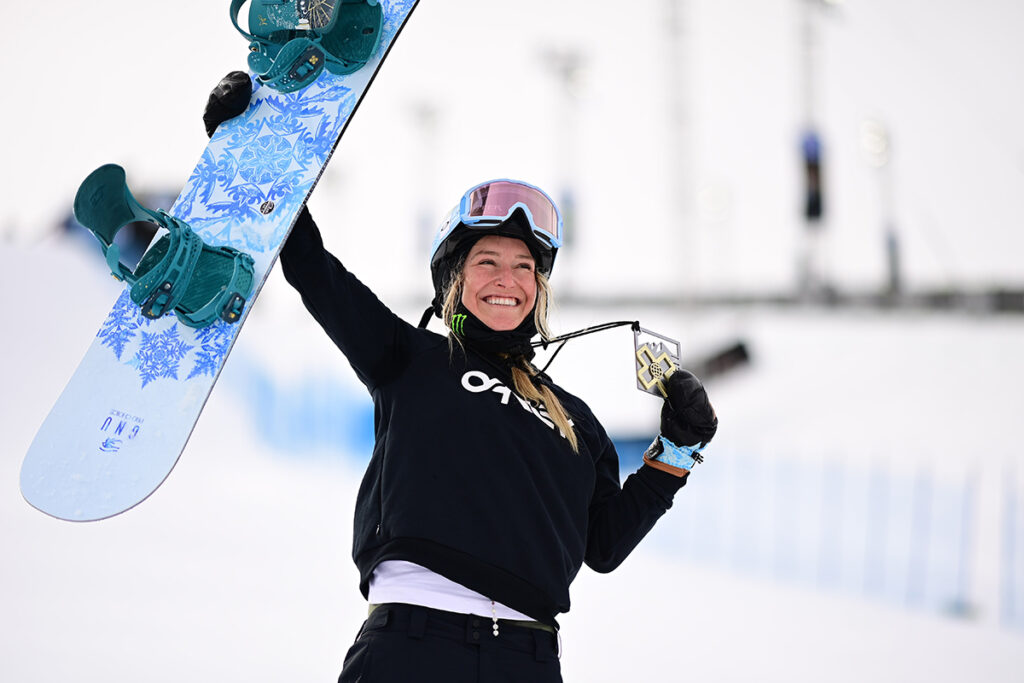 Jamie Anderson is the most successful female rider in snowboarding history.
In recent years, the rise of other female athletes has resulted in threatening her, but Jamie has been a queen for many years.
Anderson won the gold medal in the inaugural Women's Slopestyle Event at the 2014 Winter Olympics in Sochi, Russia and repeated the feat at the 2018 Winter Olympics in Pyeongchang, South Korea, making her the first female snowboarder to win more than one Olympic gold medal.
She has won gold medals in slopestyle at the Winter X Games in consecutive years in 2007/8 and 2012/3. She has 14 total medals: seven gold, five silver and two bronze.
Anderson grew up in South Lake Tahoe in a big family with five sisters and two brothers. One of the ways she fell in love with snowboarding was watching her siblings have fun with the sport. She snowboarded for the first time at age nine, and immediately fell in love with the sport.
She is currently residing in Whistler, British Columbia, Canada with her boyfriend, Tyler Nicholson, a Canadian pro-Snowboarder.
I sometimes see her flying in a big kicker at Blackcomb's park.
Anna Gasser
Date Of Birth: August 16, 1991
Nationality: Austria
@annagassersnow
2021 Cup Standings: 1st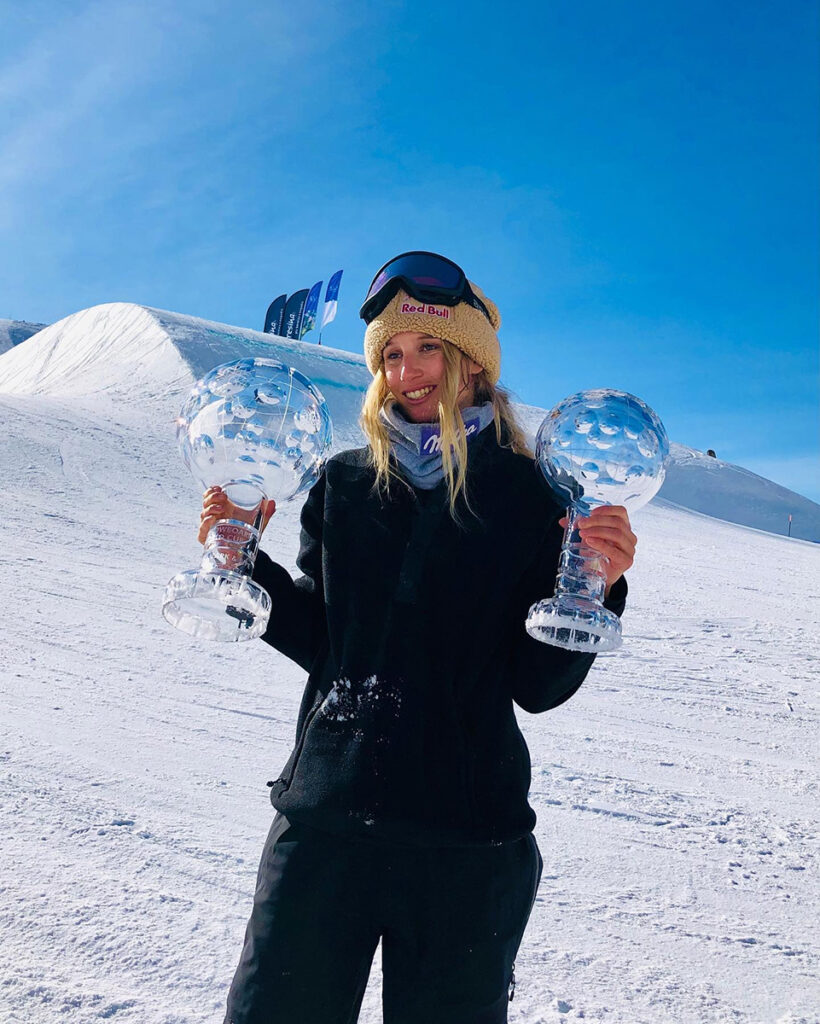 Anna Gasser is the 2018 Olympic Champion in Big Air.
Gasser qualified for the 2014 Winter Olympics and showed the best result in the qualification round, directly qualifying for the final. In 2017 Gasser won Gold in the Big Air event at the Snowboard World Championships in Spain. Gasser also had a successful 2017 X Games performance winning Gold in Slopestyle and Bronze in Big Air in Hafjell, and Silver for Big Air in Aspen.
Many Olympic athletes started snowboarding when they were young and participated in the competition. However, Gasser started snowboarding at the age of 11 and has started to compete in the 2010/2011 season. That was when she was 19 years old. Before competing in slopestyle Gasser was part of the Austrian National Gymnastics Team.
In November 2013, Gasser became the first female snowboarder to perform a Cab Double Cork 900, a double salto backwards with a half-turn.
Gasser won 3 X Games medals in the 2017 season. She also won Gold in slopestyle at the Burton US Open and Gold at the snowboarding World Championships receiving a score of 100.
In 2018 Gasser became the first woman to land a cab triple underflip.
She is a beautiful lady and she has modeled some companies.
Miyabi Onistuka
Date Of Birth: October 12, 1998
Nationality: Japan
@miyabionitsuka
2021 Cup Standings: 5th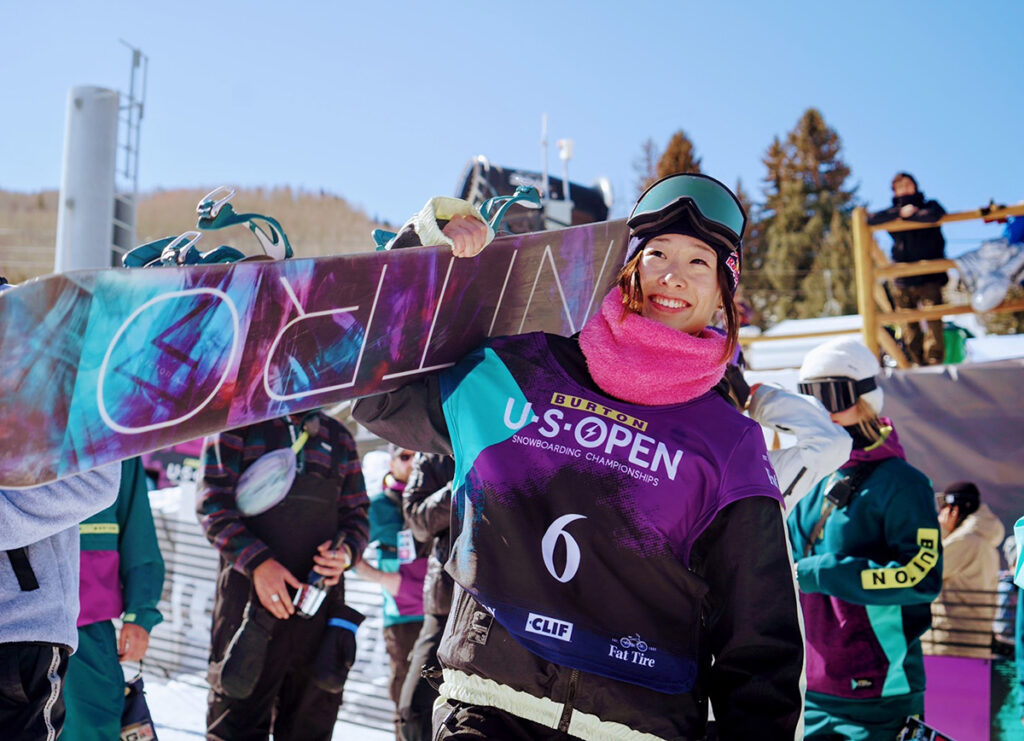 Miyabi Onitsuka is the youngest ever snowboard World Champion and an X Games gold medalist.
Onitsuka grew up in Kumamoto, Kyushu Island in Japan, where there are no snowy mountains. However, there used to be an indoor snowboarding practice area in Kyushu, where she got better at snowboarding.
She is still practicing at the jump facility during the off-season. There are about 15 that kind of off-season practice areas in Japan, which is a strong factor for the Japanese team.
Onitsuka had already participated in her first national competition by the age of six, managing to clinch her first title during this debut. Soon sponsors started to recognize the talented Japanese girl and eventually Burton Snowboards went for it and signed Onitsuka at the age of seven.
I first met her when she was eight years old. She was practicing at Blackcomb Glacier in the summer.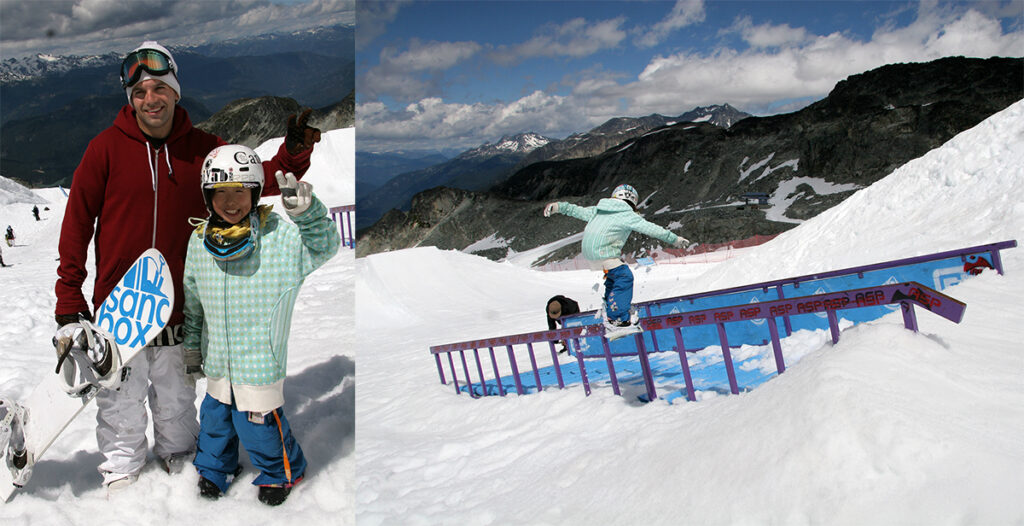 She was small girl, but she was already challenging big rails and jumps.
Later, Miyabi's mom told me that she came to Canada and break out of her shell. It meant she could snowboard at the world level. At that time, she opened up a new world by having a session with the world's top professional snowboarders.
She went on to collect one title after another including the top spot at the Big Air at O'Neill Evolution at just 14 years old and topped her outstanding performances by becoming the youngest ever snowboard world champion with a gold medal at the 2015 FIS World Championships in Kreischberg, Austria, thanks to a Cab 900.
In 2014, she had already done well in professional competitions around the world, but couldn't go to the 2014 Sochi Olympics. Because at the time she was too young and the Japanese national team didn't let her participate in the FIS World Cup, so she didn't earn FIS points to go to the Olympics.
In 2018, she participated in the PyeongChang Olympics, but unfortunately she did not perform well. She couldn't make a good run because of the strong winds. She cried disappointedly.
After that, she achieved good results in subsequent competitions and became a world champion in 2019. And in 2020, she won the Big Air in her first X Games.
OLYMPIC WINTER GAMES 2022 ALLOCATION LIST SNOWBOARD BIG AIR & SLOPESTYLE
Number of participants in the Beijing Olympics: 30 men's, 30 women's, 1 of whom will be held in their own country.
The maximum number of participants in a country is 4 for both men and women.
In order to participate, it is left to the score of FIS points.
The calculation method is that Big Air will use the 4 highest scores of the competitions that took place during the period 1 July 2019 – 16 January 2022.
For Slopestyle, the 6 highest scores of the competitions that took place during the period 1 July 2019 – 16 January 2022 will be adopted.
The ranking is determined by the above average score.
Roughly, top 30 in the world of Big Air & Slopestyle will go to the Beijing Olympics, but there are some changes depending on the highest quota of each country and the quota of your own country.
Men
Chris Corning (USA) 435pt
Marcus Kleveland (NOR) 370pt
Ruki Tobita (JPN) 373pt
Max Parrot (CAN) 370pt
Redmond Gerard (JPN) 320pt
Justus Henkes (USA) 293pt
Sven Thorgren (SWE) 288pt
Dusy Henricksen (USA) 287pt
Nicolas Laframboise (CAN) 284pt
Ryoma Kimata (JPN) 283pt
Mark McMorris (CAN) 256pt
For more details, please follow the link below
https://www.fis-ski.com/DB/v2/quota/allocation/owg/sb/2022?gender=M&event=SS-BA&page=1
Women
Reira Iwabuchi (JPN) 563pt
Laurie Blouin (CAN) 548pt
Katie Ormerod (GBR) 533pt
Anna Gasser (AUT) 485pt
Kokomo Murase (JPN) 478pt
Jamie Anderson (USA) 448pt
Zoi Synnott Sasowski (NZE) 437pt
Tess Coady (AUS) 403pt
Brooke Voigt (CAN) 391pt
Miyabi Onitsuka (JPN) 335pt
For more details, please follow the link below
https://www.fis-ski.com/DB/v2/quota/allocation/owg/sb/2022?gender=W&event=SS-BA&page=1