アメリカを代表するスノーボード・メディアの1つ、SNOWBOADER.MAGAZINEによるイベント、BATTLE OF THE BRANDがwebサイト上で開催中だ!
このBATTLE OF THE BRANDとは、春に開催された世界のトップ・ライダーたちが結集したイベント、Superparkを中心に撮影された素材を編集し、その作品の優越を読者投票によって決めよう、というもの。
これまでにも、Superparkで撮影してできた作品を争うコンペティションは行なっていたが、ブランド対決は初。これまでは、各フィルム・クルーの争いだった。
あなたの投票が、優勝ブランドを決める。ぜひ、参加してみよう!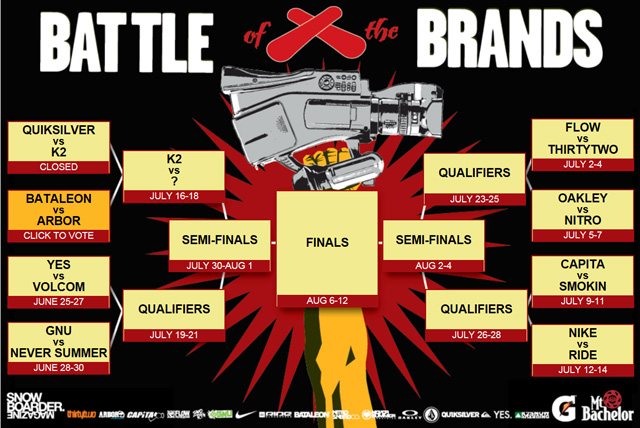 http://www.snowboardermag.com/battle-of-the-brands-brackets/

Battle Of The Brands: K2 Snowboards from Snowboarder Magazine on Vimeo.
Go here to vote in Battle Of The Brands!: on.fb.me/LrZ6aE

K2's entry into the 2012 Superpark Battle Of The Brands begins simple enough with an insightful narrative from good ol' boy Ben Lynch. Of course Ben's down to earth approach to the tao of shred is in contrast to the airtime he bags alongside teammates Nick Dirks, Matt Belzile, Skylar Thornton and Matts Kulisek in this gimmick-less and subdued submission by the K2 contingent.

Battle Of The Brands: Bataleon from Snowboarder Magazine on Vimeo.
Though not to be confused with an actual battalion, Bataleon Snowboards still traveled to Mt Bachelor, Oregon in force. From triple bases to double corks to ankle-clipping closeout contortions, Jaeger Bailey, Ethan Morgan, Eric Messier, Wiley Tesseo, Mitch Richmond, Gulli Gudmundsson, Ted Lavoie, David Bertschinger Karg and the rest of these black-coated miscreants rode Superpark 16 like they stole it.

Starring: Ben Rice, DBK, Eric Messier, Ethan Morgan, Gulli Gudmundsson, Jaeger Bailey, Jonas Steen, Kyle Lopiccolo, L'Arrogs, Mitch Richmond, Phil Tardif, Ted Lavoie, Travis Williams, Wiley Tesseo

Filmers: Ryan Scardigli, Nick Greeve, Paul Heran, Sean Lucey

Soundtrack: "God Bless America"; "80's workout video"; Mean Jeans, "Total Creep"; Toby Keith, "Cabo San Lucas"; Unknown Artist, "Blondie in Khmer Camouflage"; The Clean, "Fish"; Jacques Dutronc, "Et Moi, Et Moi, Et Moi"; Billy Currington, "Pretty Good at Drinking Beer"; Wiz Khalifa, "Erryday ft. Juicy J"; Dead Ghosts, "Dead Ghosts"; Ramones, "We're a Happy Family"; Bobby Day, "Rockin' Robin"; Dum Dum Girls, "Oh Mein Me"; Crazy World of Arthur Brown, "Fire"

Battle Of The Brands: Arbor from Snowboarder Magazine on Vimeo.
For the first time in recent memory the Draft has been employed to win a battle on American soil. Of course what we're referring to is the Arbor Draft snowboard as ridden by Brandon Hammid and Mark Reininga in the accompanying edit. Despite their eco-minded mission the ranks of the Arbor team at Superpark 16 are far from "green" recruits. Veteran Curtis Woodman has transferred his knowledge of backcountry lines to the front lines of Mt. Bachelor and last year's Gatorade Go All Day Superpark Standout Scott Vine once again found himself as a part of the freestyle vanguard with a one-foot ender.
Starring: Scotty Vine, Curtis Woodman, Erik Leon, Nick Visconti, Sammy Spiteri, Brandon Hammid, Mark Reininga, Pat Reddy, Joe Bosler

Filmers: Matt Devino, Eli Weiner, Nate Shute

Soundtrack: The Beatles, "Tomorrow Never Knows"

Battle Of The Brands: Quiksilver from Snowboarder Magazine on Vimeo.
Go here to vote in Battle Of The Brands!: on.fb.me/LrZ6aE

Quiksilver's edit was concepted and executed by none other than Trent Ludwig, the Northwest snowboarder-turned-filmer, and once you see the production value (and partying) of the intro to the video, you'll be hooked, and the riding is just as insane. Once atop the Superpark 16 setup, Johnny Brady, Will Lavigne, Matt Belzile, Ted Borland, Jake OE, Bryan Fox, Danimals, Alex Beebe, and Ulrik Badertscher put on a display that's both fun to watch and heavy as hell. Keep an eye out for Jake OE's boardslide to drop on the Boreal wall and Ulrik's frontflip handplant, among many other standout Superpark tricks fueled by the Quik team's liquid courage.

Battle Of The Brands: Smith from Snowboarder Magazine on Vimeo.
The savage shreds from Smith Optics came back from Mt. Bachelor with a slew of footage and decided to throw their edit into the ring as a Battle Of The Brands alternate. Well, we have our sixteen submissions so no backups were needed, but this saga from Smith, set to the sounds of Megadeath and featuring the riding of Wyatt Caldwell, Colin Langlois, Jeff Kramer, Pat Lee, Chelone Miller, Taylor Carlton, Corey Noble, and Smith TM Nate Farrell who also provides the overdub narrative, is too good not to put in the mix somehow.

Battle Of The Brands: Dinosaurs Will Die from Snowboarder Magazine on Vimeo.
Although Dinosaurs Will Die missed the Battle of the Brands submission deadline, all we can say is better late than never. In DWD's DIY approach, you'll see Ben Bogart going ballistic on the Loon hip, Chris Brewster breakin' shit off on the Boreal setup, Genovese's inverted exploits, newcomers Lucas Ouellette and Richie Conklin making their official introduction to snowboarding, filmer and DWD co-founder Jeff Keenan showing that after years of dusting off death lenses he can still dust off the boots, and lest we forget, SNOWBOARDER Magazine's own Special Projects Design Director "Big" Mike Gonsalves, who waxed up his stick–and perhaps even his chest–and took it to Superpark 16 sans shirt.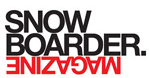 http://www.snowboardermag.com/