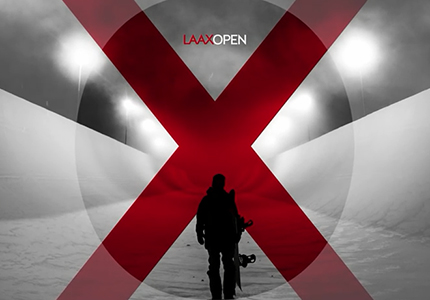 世界の強豪ライダーが集まる。
日本からも最高峰の選手たちが世界を狙う。
スイスで開催されるLAAX OPEN(ラークス・オープン)がいよいよ始動!
The world of snowboarding is unthinkable without this event: the LAAX OPEN 2017 provide one week of snowboarding at its best. And in addition to the high-class international women's and men's slopestyle and halfpipe competitions sanctioned by FIS and TTR, cultural highlights and concerts at rocksresort deliver top entertainment.

From January 16 to 21, 2017, the international snowboarding elite will gather at the Swiss winter-sports resort which was awarded "world's best freestyle resort" a few weeks ago. This unique ambiance regularly pushes the snowboard stars to deliver their best performance of the year!
Laax was recognised as the "World's Best Freestyle Resort" 2016 by the World Ski Awards, known as the "Oscars of the travel industry". What is unique about this award is that it is both a public and jury award, with 1.5 million votes cast. For Laax, this honour is just as richly deserved as hard-earned. Since 30 years, the Grisons winter-sports paradise has consequently focussed on snowboarding and freestyle. Never resting on their laurels, they've steadily brought their snowpark and halfpipe at Crap Sogn Gion to perfection. Today, the world's biggest halfpipe (200 m long, 6.9 m high) as well as a huge, innovative slopestyle course await the riders.
With the successful debut of the LAAX OPEN event in the previous year, Europe's leading winter-sports resort ushered in a new era. First-class snowboarding competitions, powder runs, lifestyle, cultural and culinary highlights – with something for everyone, the LAAX OPEN is in a class of its own and the year's most popular event for the snowboard pros. 200 participants from 22 countries and five continents have registered for the LAAX OPEN 2017. The female winners of the 2016 event, Jamie Anderson and Arielle Gold, 6-time BEO Laax halfpipe winner Kelly Clark, X-Games champion Chloe Kim (all USA), current world cup leader Anna Gasser (AUT), Sina Candrian (SUI), and Aimee Fuller (GBR) will ride in the women's contest. The men's field includes last year's winners, Mark McMorris (CAN) and Ayumu Hirano (JPN), BEO Laax 2015 winner, Stale Sandbech (NOR), Roope Tonteri (FIN), Olympic halfpipe Champion 2014, Iouri Podladtchikov (SUI), local young gun Pat Burgener (SUI) as well as Jamie Nicholls (GBR).
****************************************¬************
► Abonnieren/subscribe: http://goo.gl/8XgSFa
► Facebook: http://goo.gl/plspsr
****************************************¬***********
Dieser Event ist aus der Snowboardwelt nicht wegzudenken: Die LAAX OPEN 2017 bieten eine Woche Snowboarden vom Feinsten mit allem, was dazu gehört. Neben hochklassigen, von FIS und TTR sanktionierten internationalen Slopestyle- und Half¬pipe-Wettbewerben für Damen und Herren am Crap Sogn Gion sorgen Kultur und Konzerte im rocksresort für Top-Entertainment. Vom 16. bis 21. Januar 2017 trifft sich die internationale Snowboardelite in dem Schweizer Wintersportort, der kürzlich als weltbestes Freestyle-Skigebiet ausgezeichnet wurde. Dieses einzigartige Am¬biente pusht die Snowboardstars regelmäßig zu den besten Leistungen des Jahres!
Laax hat im Rahmen der World Ski Awards, des Oscars der Reisebranche, den "World's Best Freestyle Resort"-Award 2016 gewonnen. Das Besondere an dieser Auszeichnung ist, dass bei dem Jury- und Publikumspreis 1,5 Millionen Stimmen abgegeben wurden. Diese Auszeichnung ist für Laax so hochverdient wie hart erarbeitet. Denn schon seit über 30 Jahren setzt das Graubündner Wintersportparadies konsequent auf Snowboarden und Freestyle. Dabei ruhte man sich nie auf den Lorbeeren aus, sondern perfektionierte Snowpark und Halfpipe am Crap Sogn Gion ständig weiter. Heute warten hier die mit 200 Meter Länge und 6,7 Meter Höhe größte Halfpipe der Welt sowie ein ebenso gewaltiger wie innovativer Snowpark für den Slopestyle-Contest.
Mit der erfolgreichen Einführung der LAAX OPEN im vergangenen Jahr läutete Europas führender Wintersportort eine neue Ära ein. Erstklassige Snowboard-Wettbewerbe, Powder-Runs, Lifestyle, kulturelle und kulinarische Highlights – die LAAX OPEN spielen in ihrer ganz eigenen Liga und sind für die Snowboardprofis der wohl beliebteste Contest des Jahres. Ca. 200 Teilnehmer aus 22 Ländern und fünf Kontinenten haben sich bereits für die LAAX OPEN 2017 angemeldet.
Die Siegerinnen von 2016, Jamie Anderson und Arielle Gold, die sechsfache BEO LAAX Halfpipe-Gewinnerin Kelly Clark, X-Games Champion Chloe Kim (alle USA), die Weltcupführende Anna Gasser (AUT), Sina Candrian (SUI) und Aimee Fuller (UK) scheinen auf der Damenliste auf. Bei den Herren starten unter anderem die Vorjahressieger Mark McMorris (CAN), Ayumu Hirano (JPN), BEO LAAX 2015 Sieger Staale Sandbech (NOR), Jamie Nicholls (GBR), Roope Tonteri (FIN), Schweizer Halfpipe-Rider wie der Olympiasieger 2014 Iouri Podladtchikov und Local Hero Pat Burgener (beide SUI), sowie der derzeit beste deutsche Maxi Preissinger.