Choosing boots is the most important part of snowboard gear. Many people are crazy about buying a new snowboard, but having comfortable boots that suit you will help you improve your snowboarding. So we need to be most careful in choosing boots.
Standard Lacing or Speed Lacing or Boa
There are three types of snowboard boots. BOA system that is easy to put on and take off, Traditional / Standard Lacing that is a little troublesome to wear, Speed Lacing with ease of tightening in the middle.
Traditional Standard lacing
It works like a shoelace.
It will take some time to close.
There is also an opinion that it is not possible to tighten the laces tightly, especially for women who may not have enough pull strength.
Since the tightness can be adjusted finely, standard lacing tends to be used by good riders.
It also tends to be softer than BOA and Speed Lacing, and is popular with freestyle snowboarders.
Another advantage is if the Laces break they are easy/cheap to replace.
There used to be only this type of snowboard boots, but these days, the popularity of standard lacing has dropped considerably. Perhaps many beginners have chosen BOA and Speed Lacing.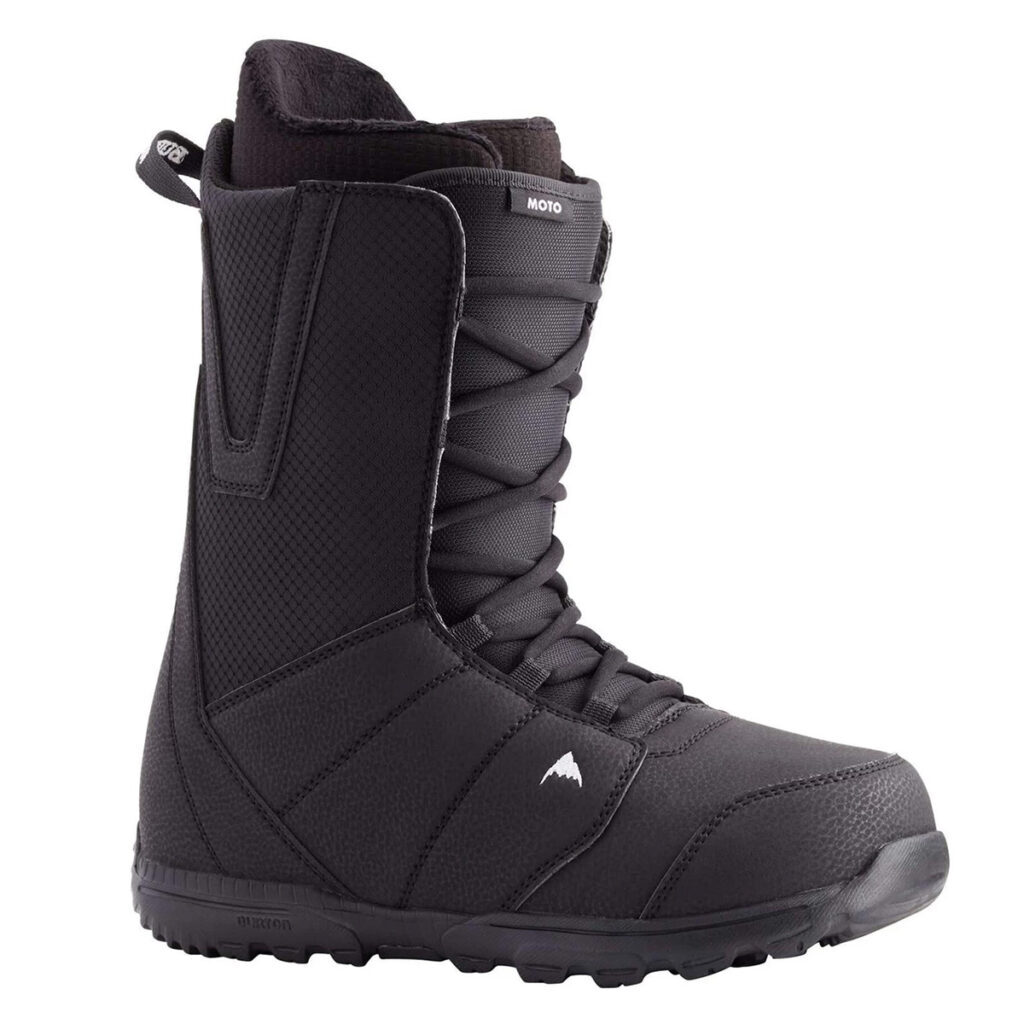 Speed Lacing
You can tighten your snowboard boots much faster than laces.
Basically, if you pull strongly on the two straps, the lock will be applied and the snowboard boots will be tightened. It is as fast as the BOA type.
Since it is a "pulling" action that makes it easy to apply force, even women can tighten it firmly.
It is relatively lightweight and is preferred by many snowboarders.
Probably the type most favored by many professional snowboarders.
Personally, I like this type of boots. I think many of my friend's instructors also use this type of boots.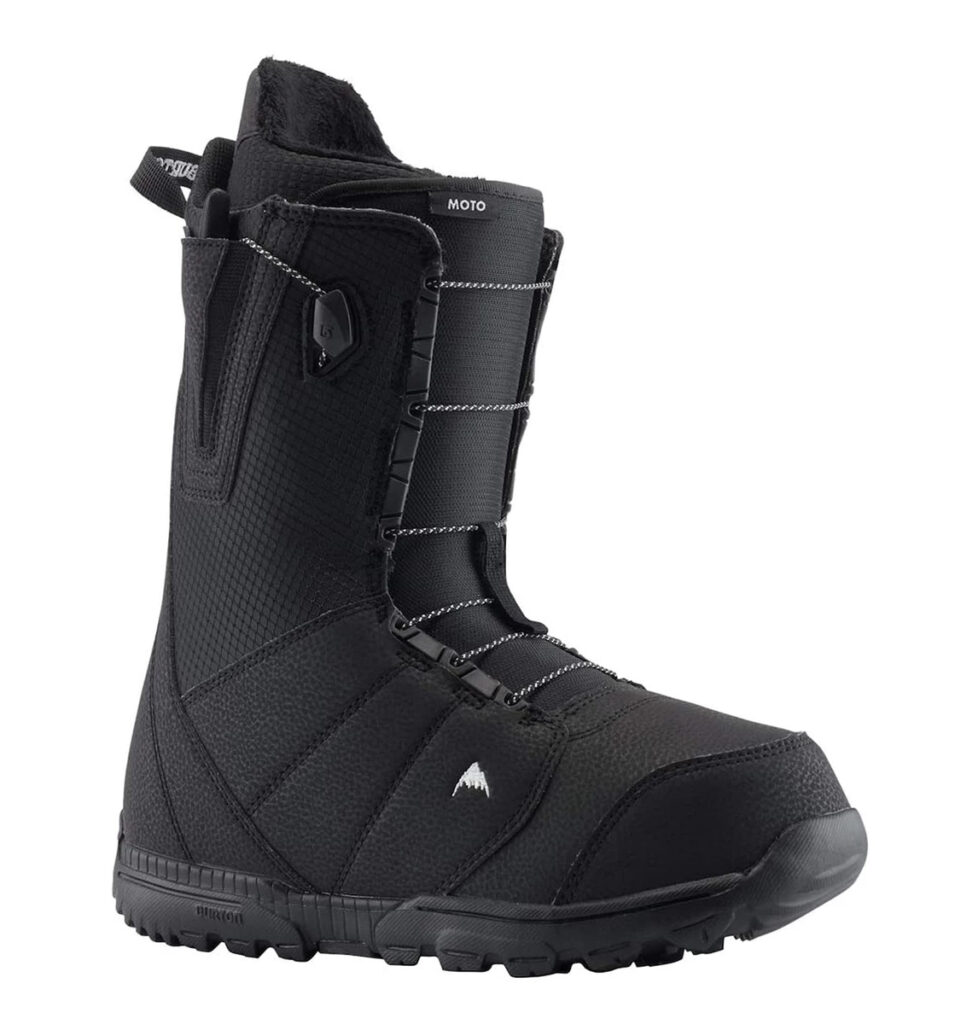 BOA Systems
There are two main types of boa systems.
Single Boa and Double Boa though each boot manufacturer's boa systems are slightly different.
These systems often have an inner tightening system similar to traditional lacing systems but the outer boot is tightened using a knob that you turn to pull a system of wires tight across the boot.
Single boa systems have one knob for the whole boot.
Double Boa is more expensive than Single Boa. But I recommend Double Boa because it can be tightened more firmly as there is a separate BOA system for the toes/for your knees.
Boa boots is really easy to get them tight just a matter of twisting the knob, especially good for those with weaker grip.
If it breaks, it may not be possible to repair the BOA laces at a nearby shop.
I used to hear that BOA boots were broken and the snowboarders were in trouble, but recently I have hardly heard of them.
Perhaps the BOA boots you buy from now on will not break with a high probability.
It may feel a little heavier than Traditional Standard lacing and Speed Lacing.
Prices also tend to be higher.
In recent years, the number of snowboarders using BOA boots has increased significantly, and the tendency is only increasing.
Probably chosen by many beginners and intermediates.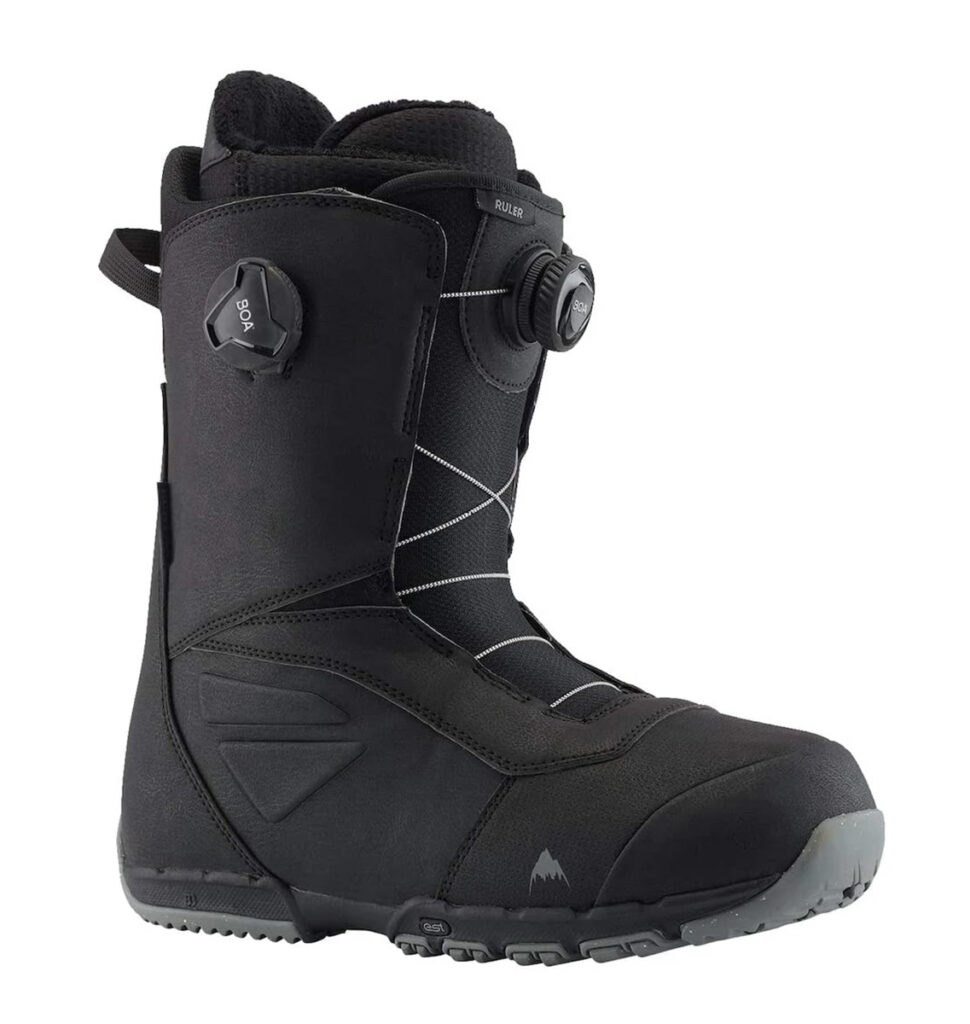 Choose the boots that fit your foot size
Choosing boots that fit your foot size is very important. That's because when you snowboard, you'll be wearing boots for a long time.
Maybe you'll be wearing boots for more than 6 hours from 9am to 3pm.
If your boots are too tight and your toes hurt, snowboarding can be hell.
That's impossible! You might think, but I've seen a lot of snowboarders with sore feet.
When you buy boots at a snowboard shop, the clerk often recommends tight boots.
The reason is that while you are wearing boots, the inner part of the boot will expand, so when you buy it, you will be advised to wear tighter boots.
If your foot size is US8.0, they may recommend a size of 7.5.
But the idea is dangerous. Because, unlike in a warm shop, it's easier to feel the tight boots in a cold ski area.
As a result, it often happens that the tip of the foot hurts.
Snowboard clerks are people who snowboard for more than 60 days in the season.
They are good at snowboarding and prefer tight boots.
They can withstand the tightness of the boots for the first 10 to 20 days.
However, the average snowboarder probably snowboards at most 20 days in a season.
When those people buy tight boots, the boots does not expand out because they dont get enough days on the slopes.
So choose boots that are the right size for your feet.
Many people don't know the size of their feet
Many people are not certain to know the size of their feet because they have never actually measured their feet.
If you go to a snowboard shop, be sure to measure your foot size with a measuring device.
Then you can see that the size of your feet is different on the right and left.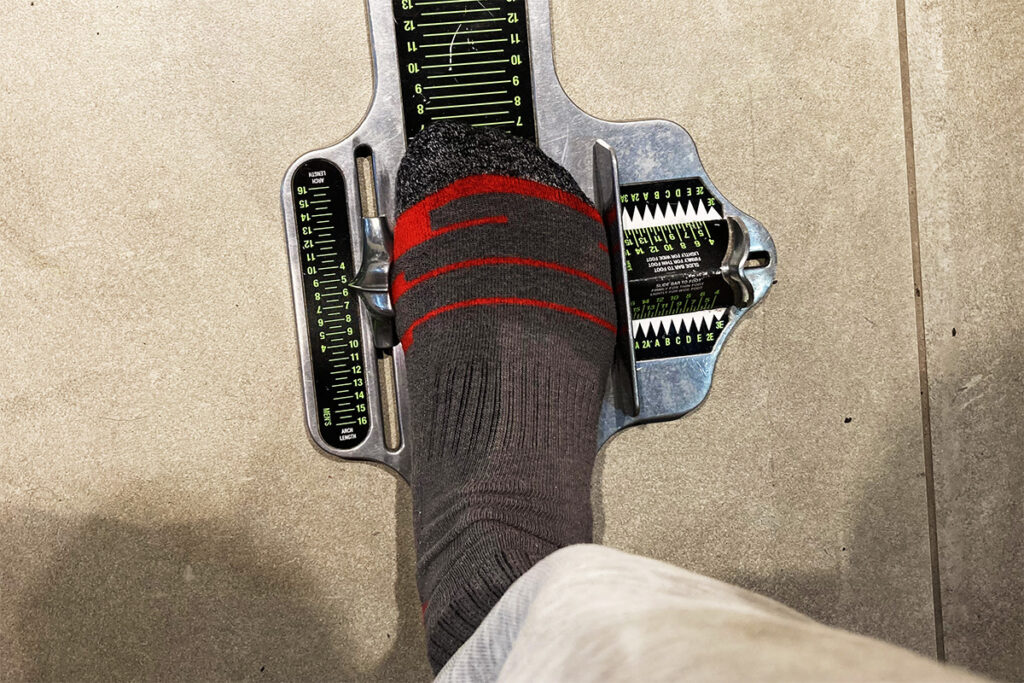 If your left and right foot sizes are different, choose the correct boot size for the larger foot.
At the shop, try at least three types of boots.
If you try out different brands, you'll find out if they suit you or not.
If you find a pair of boots that you like, try them on for as long as 5 minutes and see if they really suit you.
In my experience, the boots that really suit you are the moment you put them on.
It feels like a couple, the moment you meet.
Please choose the boots that suit you.
I think snowboard boots are the most important part of snowboard gear.
Features of boot flex
The flex of boots can be broadly divided into soft, medium and stiff.
Stiff boots are fast and stable, and soft boots are easy to bend your ankles and control the board.
Beginners should choose soft or medium.
Advanced snowboarder tend to prefer stiff boots, but they do not always wear hard boots as they may go to the terrain park.
Just like choosing a golf club, they decide on the flex of your boots depending on what you want to do.
Those who want to have fun with jib/jumps/rails tend to prefer soft boots.
Also, those who want to snowboard at speed tend to prefer stiff boots.
If you want to do large jumps, you might use stiff boots to some extent, and if you want to jump with a medium to small kicker, you might use soft boots that are easy to control.
If you want to enjoy different styles of snowboarding, I recommend medium flex boots.
Also, the preference for flex of boots is a personal decision, and each rider has different preferences.
I personally like medium flex boots, I don't like stiff boots. Snowboarders spend a lot of time on the snow, so it's best to wear boots that you feel comfortable with.
For boot flex, check the catalog or ask the shop staff.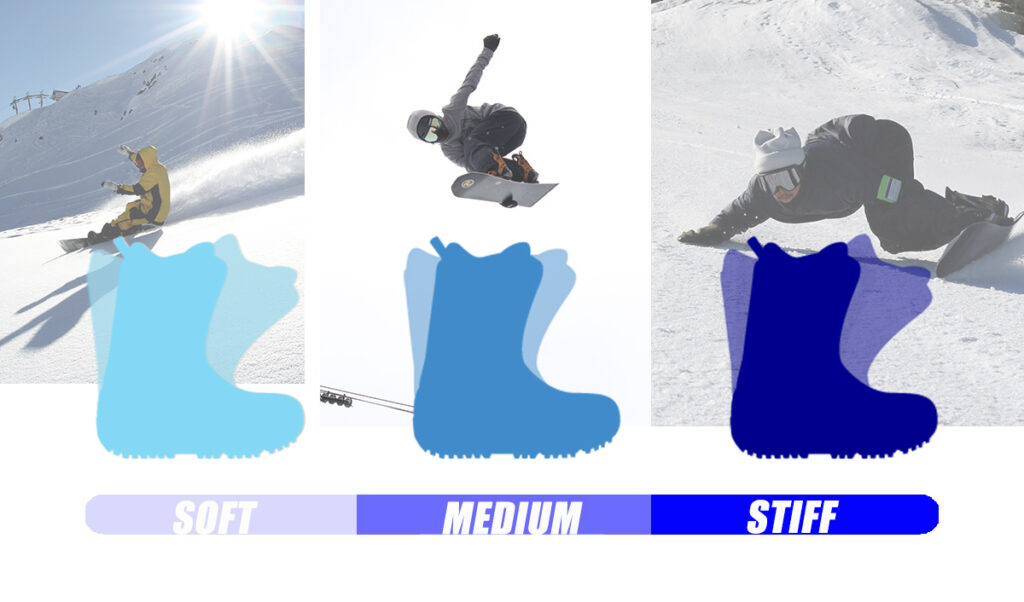 Links to popular snowboard boots brands
Burton: Probably the most popular snowboard boots brands in the world
https://www.burton.com/

ThirtyTwo: The cool design makes it popular with freestyle riders.
https://thirtytwo.com/
Deeluxe: It's rarely seen in North America, but it's popular in Europe and Japan, and its quality is high.
https://www.deeluxe.com/
Note: Depending on the manufacturer, there are features such as wide and narrow because some people have wide feet. Make sure to try and wear your boots at the shop before choosing them.