カナダ・バンクーバーに本拠を置く、Endeavor Snowboardsのwebサイトがリニューアルされた!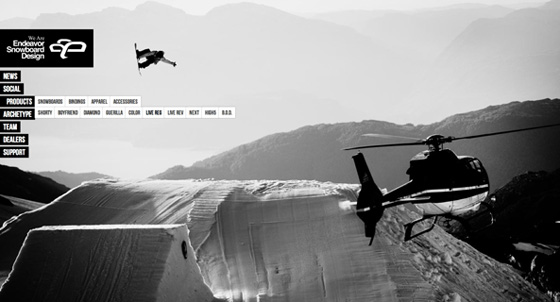 ENDEAVORSNOWBOARDS.COM KEEPS IT SIMPLE SO YOU DON'T LOSE YOUR MIND ONLINE
Straight Forward Navigation And Product Videos
Endeavor Snowboards is constantly evolving and their website has a fresh new focus for the 2011/12 season. They have kept the boards at the forefront and they have kept things simple so riders get what they want, right away.
"Our focus for the site has always been about educating riders on our boards and showcasing the experiences that happen while riding the best boards in the world," says Max Jenke, Endeavor founder. "We are living in a digital age and as purveyors of products designed to get you out of the house, we are trying to hit that fine balance of inspiring and providing the right information online so people will get off their computers, and get out there and ride."
Endeavor's Product Knowledge videos are the benchmark in the industry and showcase technical specs as well as artist information for the design. Each video features Jenke covering off the deck's technical attributes, interviews from the artist responsible for the board's graphics, and testimonials and action footage from the athletes who covet their respective Endeavor board.
"No one in the industry is doing any kind of product knowledge video on this level and we take a lot of pride in doing them, especially since they showcase the athletes that actually use the decks and the artists who work with us to create the graphics," says Jenke. "We also have our product finder section with detailed descriptions and a Buy Now button so people can get on the right board for them."
One of the founders, Rob Dow, is the chief blogger, keeping things fresh on the site with his insights and musings; while Scott Serfas' photography makes up the site's theme and provides downloadable imagery for computer, iPad and iPhone. The Endeavor crew also keeps it easy to connect with them in the social realm with a homepage tab that takes users straight through to their Vimeo, YouTube, Twitter and Facebook channels.
The site at www.endeavorsnowboards.com has all the details on Endeavor's line-up of boards for the winter season 2011.2012. Help the Endeavor guys up their Klout scores on Twitter by following @scott_serfas @maxjenke @robdow and of course @endeavorsnow.


http://endeavorsnowboards.com/