噂は本当だった!遂にEマン・アンダーソンが、Stepchild Snowboardsチームのプロに昇格した。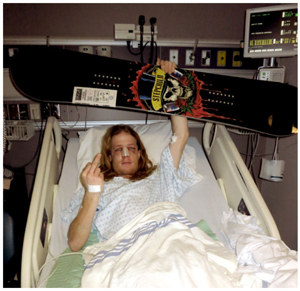 最近、鼻の手術をしたEマン。病室に自身初のシグネチャーボードが届き嬉しそう。

Stepchildのプロは、数あるブランドの中でも最も難しくあのジョー・セクストンでも時間が掛かった。すでにジョーの名は高らかに世界に広がっていた3年前もアマ。だから、ジョーは最強のアマ・ライダーとも言われていて、一昨年プロに昇格した。
Eマンも、アマとは言えないほどうまく、個性的なライディングでリスペクトされているライダーだが、遂に祈願のシグネチャー・ボードを出すことになった。
Stepchildの創始者で現在でもボスであるショーン・ジョンソンは、早くからEマンの才能を買っていて、今回の昇格を喜んでいる。
これで、Stepchildプロは、シモン・チェンバレン、JPウォーカー、ジョー・セクストン、Eマン・アンダーソンの4人になり、かなりの最強部隊が整ったと言えそうだ。


EMAN JOINS THE STEPCHILD PRO TEAM!

The Rumors you have heard are definitely true. Whistler's biggest dirt, E-man Anderson is finally on the StepChild pro roster with his hard earned pro model.
He now joins fellow StepChild pros, JP Walker, Joe Sexton, and Simon Chamberlain. StepChild owner and founder Sean Johnson, had this to say about E-man's recent team upgrade : "E-man has been one of our most loyal riders and StepChild supporters since day 1. I remember 2 of our first riders Graydon and McClatchy used to give E their old boards. He is one of the most talented and leather skinned snowboarders I have ever worked with and he has earned every bit of it the hard way. From countless broken noses, concussions, summer jobs, sleeping on couches, flakey sponsors, and struggling to keep himself fed in an overpriced mountain town, E-man has gained the respect from everyone at StepChild and riders all over the globe. Despite everything E-man has had going against him during the past several years, he has still managed to hold his head high and progress his riding . Very few people in the world could pull that off".
With E-mans recent promotion to the pro ranks on the StepChild team, he'll be upping his photo incentives from a medium pizza to a large deluxe pizza for every photo he gets published. E-man is a prime example of someone who has fought through every hardship and has risen to his feet with every set back he has experienced. Normal people would have quit ages ago but E-man's persistence proves that snowboarding, amongst other substances, runs deep in this mans' blood. Much respect E!
"Now that StepChild has turned me pro, I've got to do my best to get to the mountain by noon – I'm really motivated and feel I can pull it off." E-man Anderson
"E-man is a beast! I think E-man has definitely paid the fiddler throughout the years to earn this one." fellow teammate JP Walker
Last but not least, Dope III producer, David Brocklebank, had this to say about E-man's recent promotion, "Chyeeaaaahh!!!"
Keeping with refusing to stay down, E-man recently underwent surgery for another snowboard related injury. Last Thursday, while sliding a roof drop, E-man face planted and broke his nose, eye socket and cheeckbone. Screws and metal plates have been surgically implanted in his face bones. Our thoughts and support go out to E-man and we wish him a healthy recovery with some mellow pow turns to come.
This current season marks StepChild's 12th year in business. It was founded in 2000 by washed up bitterman Sean Johnson and his office troll friend Brad Richmond. Owners also include JP Walker and Simon Chamberlain. With this recent move with E-man its apparent that StepChild will continue to promote its company through professional riding and quality manufacturing. StepChild Snowboards are manufactured in Austria and come backed with a 2-year warranty. If you want to go to China and buy some watered down horse glue snowboard then go for it.
Watch for E-man's pro board in specialty snowboard stores that are still in business next fall.
Check out E-man and the rest of the StepChild team in the recently released Like A StepChild video here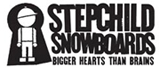 http://stepchildsnowboards.com/