スイスのラークスで行われたヨーロッパ最高峰大会Burton European Open 2011(TTRツアー最高峰6スター)の結果が入って来たので、ご紹介しよう。
今大会では、ハーフパイプで國母 和宏が2位、降旗由紀が3位と日本勢も大活躍した。
男子で優勝したのは、TTRツアーで無類の強さを誇るピート・ピロイネンだ。
優勝を決めたルーティーンは、フロントサイド720→キャブ・ダブルコーク1080→ フロントサイド・インディ→バックサイド900→アーリーウープ・ロデオだった。.
以下の動画で女子優勝のケリー・クラークと男子優勝のピート・ピロイネンのランがチェックできるぞ。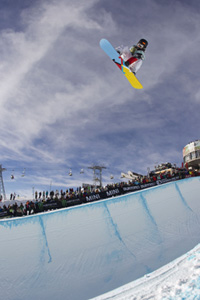 パイプでも無類の強さを発揮するピロイン。
The final day of the 12th annual Burton European Open went off today with Peetu Piiroinen (FIN) and Kelly Clark (USA) taking home the halfpipe titles, earning themselves 1000 Swatch TTR Ranking points, a piece of the $125,000 USD prize purse and automatic qualification into the 2012 World Snowboarding Championships taking place next February in Oslo, Norway. Peetu advanced in the TTR Tour Ranking to World No. 3 with his win today strengthening his position in the TTR Top 10, while Iouri Podladtchikov (SUI), who today placed third, moved into the tour lead. On the women's side Kelly Clark moved into World No. 11, putting some pressure on the women in the Top 10.
Kelly Clark Brings a Top Performance Despite Morning Fog
The day kicked off with a small delay due to some clouds hanging over the pipe forcing the organizers to change the format. All women went from semi-finals straight into a two-run final of 21 riders. Kelly Clark (USA), once again, set the bar for the rest of the field and put down her best run on her first drop throwing down a frontside 900, backside 540, frontside 720 and finished with a Cab 720. With her first place finish here, combined with her victory last weekend at the 6Star O'Neill Evolution, Kelly has made her presence known in the Swatch TTR World Ranking and will be a competitor to watch out for throughout the rest of the season. Kelly had this to say about the day, "I love this pipe and I come here every year. It's one of my favorite events to come to because the pipe is so much fun to ride," and she continued to talk about her win saying, "It's great winning another 6Star event, I'm looking forward to the Burton Canadian Open and the Burton US Open and to see if I can't get a few more good results."
Behind Kelly was young Spanish rider, Queralt Castellet, who has been shaking things up in the women's halfpipe scene and broke into the TTR Top 50 with her second place finish today, as did the Japanese rider, Yuki Furihata, who placed third.
History Repeats Itself in the Men's …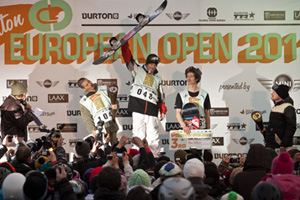 ピロイネンが欧州王者に!
Burton European Open Mens Halfpipe Reslts:
1 Peetu Piiroinen FIN
2 Kazuhiro Kokubo JPN
3 Iouri Podladtchikov SUI
4 Benji Farrow USA
5 Ilkka-Eemeli Laari FIN
6 Scotty James AUS
7 Jan Scherrer SUI
8 Markus Malin FIN
9 Arthur Longo FRA
10 Markus Keller SUI
Burton European Open Womens Halfpipe Reslts:
1 Kelly Clark USA
2 Queralt Castellet ESP
3 Yuki Furihata JPN
4 Kjersti ?stgaard Buaas NOR
5 Soko Yamaoka JPN
6 Linn Haug NOR
7 Cilka Sadar SLO
8 Ursina Haller SUI
9 Nadja Purtschert SUI
10 Kendall Brown NZL


スロープスタイル優勝は、フィンランド出身の若干18歳ループ・トンテリ。
最初のダウンレールではバックボードから270アウト、さらには中間付近のパイプでもうまくまとめて、最後の方のキッカーが続く箇所では、キャブ900、バックサイド・ダブルコーク1260、そして最後にはなんとキャブ1440という超高回転スピンを完璧に決めてみせた。
またも凄い奴が出て来たという印象を与えた。
その気になる動画は、以下でチェック!!!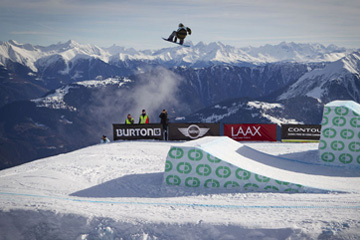 またも凄い奴の登場!名前はルーピー。
Roope Tonteri (FIN) and Jamie Anderson (USA) were victorious in Fridays slopestyle finals at the 12th annual 6Star Burton European Open taking place in Laax, Switzerland. With her win today, earning 1000 TTR ranking points, Jamie takes over the Swatch TTR World Tour lead and put herself in an excellent position to make a move for the 2010/11 TTR World Tour Champion title. This was Roope's first 6Star title of his career, which bolstered his spot at World No. 8 in the TTR World Tour Rankings. In addition to earning TTR Ranking points, Roope and Jamie also walked away with a share of the huge $125,000 USD prize purse and have also both secured spots to compete in the 2012 World Snowboarding Championships taking place in Oslo, Norway in February 2012.
Burton European Open Mens Slopestyle Results:
1 Roope Tonteri FIN
2 Peetu Piiroinen FIN
3 Chas Guldemond USA
4 Seppe Smits BEL
5 Ethan Morgan GER
6 Roger Kleivdal NOR
7 Mark McMorris CAN
8 Sven Thorgren SWE
9 Sebastien Toutant CAN
10 Christian Haller SUI
Burton European Open Wo,ens Slopestyle Reslts:
1. Jamie Anderson USA
2. Sina Candrian SUI
3. Jordie Karlinski USA
4. Silje Norendal NOR
5. Ty Walker USA
6. Urska Pribosic SLO
7. Charlotte Van Gils NED
8. Isabel Derungs SUI
9. Sarka Pancochova CZE
10. Aimee Fuller GBR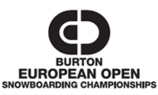 http://www.opensnowboarding.com/