北米を代表するスノーボード・フォトグラファーで、ENDEAVOR SNOWBOARDS創始者としても知られるスコット・サーフェスのwebサイトがアップされた。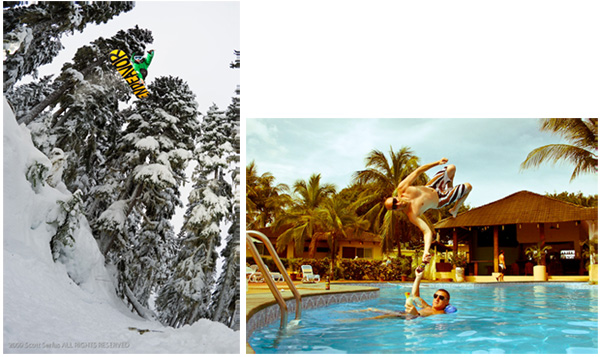 ENDEAVOR SNOWBOARDS FOUNDER AND PHOTOGRAPHER SCOTT SERFAS UNVEILS NEW PHOTO WEBSITE
Scottserfas.com Explores The Story Behind The Photo
Endeavor Snowboards founder and eminent action sports photographer Scott Serfas has unveiled a new website chronicling his photographic exploits and the stories behind his images.
"This new website allows me to share my experiences as they happen," says Scott Serfas, professional photographer. "Action sports is a lifestyle and when I am shooting snow, skate, surf or just amazing, raw landscapes and the characters that inhabit them, I find people are often more interested in the story behind the scenes than they are in the outcome."
Not to say the photographic outcomes aren't worthy of attention too. Serfas's new website displays a staggering array of images including limited edition prints available for purchase online. A blog will detail some aspects of his day-to-day shoots and will provide a glimpse into what could be showing up in magazines next season.
"I am recognized for my ability to translate the athlete's point of view and their experience," says Serfas. "I insist on capturing scenes that illustrate the scale and magnitude of the landscape so everyone sees a realistic interpretation of what the athlete is actually doing. On top of that, I strive for a unique perspective which sometimes means I am shooting in the equipment basket attached to the outside of a helicopter or I am scaling some peak at 5am to get the sunrise."
With over 50 magazine covers to his name, Serfas is probably best known for his work in snowboarding and for his thirteen-year tenure as a senior photographer for the magazine TransWorld SNOWboarding. Serfas's impact on Endeavor Snowboards and Airhole Facemasks is evident in each of the brand's imagery and creative direction. His portfolio also features skate and surf photography; travel, landscapes and portraits; as well as commercial shoots for clients including Ransom by Adidas.
Check out www.scottserfas.com online or on the go with mobile viewing platforms for the iPhone and iPad. Serfas can also be stalked via Twitter @scott_serfas and "liked" at www.facebook.com/scottserfasphotography.




http://scottserfas.com/