ドラッドヘアが特徴で、最近、カリフォルニア・エリアでは最も優れたタレントと言われるエリック・レオンがArbor、Airblaster、Fluxと契約した!
エリック・レオンは、ライダー・マネージメントを手掛けるMarketing Farmer所属のライダーで、今回のプレスリリースもMarketing Farmerから送られて来た。
エリックはすでにArborスノーボード、Fluxバインディングのライダーであることは知られているが、今回再契約!
ここ最近、台頭が激しいライダーだけに、このフレッシュな契約で大金が動いたかも!?
今回の契約で、「スノーボーダーとしての夢を後押ししてくれる。」と、エリックは喜びのコメント。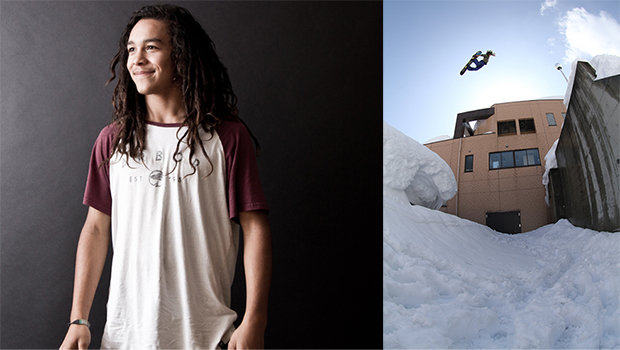 Erik Leon Signs Fresh Deals With Arbor, Airblaster & Flux
Marketing Farmer managed professional snowboarder, Erik Leon has signed three fresh contracts with Arbor Snowboards, Airblaster Outerwear and Flux Bindings. "In a very difficult time for snowboarding, I think it speaks volumes that these three brands think enough of Erik to award him with solid new contracts for the 2013/14 season," says Marketing Farmer's Brad Farmer. Erik becomes the first paid amateur on the Arbor and Airblaster teams while Flux has moved him on up to their Global team and plan to highlight him internationally.
"I can't imagine why any company wouldn't want Erik Leon on their team. He's only 18-years-old and yet has the board control and riding ability of a veteran. He has an unmistakably unique riding style that you can literally feel when you watch him shred. He is one of the most genuine people I've ever met and he has a stunning look that is quite a contrast from what is typically seen in the snowboard industry. Erik Leon would be a powerful addition to any brand's team and these brands have now recognized that."
–Brad Farmer, Marketing Farmer
"When we first adopted Erik into the Airblaster family, he mentioned he wanted to grow dreads, that was over three years ago. Now with his extra Zion powers, true passion for snowboarding, and creative riding style, Erik embodies Airblaster's ideals. Whenever Erik is on his snowboard, you can tell he's having a great time. We couldn't be more excited to continue support Erik in his snowboarding efforts and watch him grow into an even more awesome rider!
–Cale Meyer, Airblaster
Erik Leon is one-of-a-kind and one of the most creative and style-fresh young shreds in snowboarding today – we say he makes snowboarding look fun and that is important to us. Wether he's slaying the park or laying huge powder turns in the Tahoe Backcountry, he's got a Jah-flavor all his own and has become a major part of the Arbor team. We're really looking forward to continuing to support Erik in the coming years as we believe he's the future of snowboarding and the industry should expect to see a lot more of him.
–Matt Patti, Arbor
You only have to meet Erik once to know he's a maverick, and his riding speaks for itself. His smooth style and genuine charisma will continue to evolve because Erik truly has fun on his snowboard. We are happy to bring him onto the Flux Global Team and we're excited to introduce his creativity and good vibes to our Flux family all over the world.
–Kara Flietstra, Flux
"I am really happy to be supported by these awesome bands. It's going to be an all-time winter with Arbor, Airblaster and Flux now having my back. This really helps me pursue my dreams of snowboarding. I am looking forward to being the best possible representative for these brands and I will do my best boarding ever. Thank you."
–Erik Leon