カナダBC州にあるウィスラーは、予定であった11月22日よりも5日早めて11月17日にオープンすることを決定した!
また、最初に来た1500名にプレゼントも贈呈することになった。

Whistler MOUNTAIN OPENing EARLY – SATURDAY November 17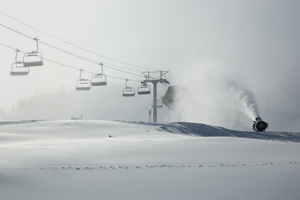 オープンに向けて着々と準備しているウィスラー。

Opening day festivities include the Wonder-Full Gondolas event – gifts for the first 1500 guests!
BC November 13, 2012 – Thanks to cool temperatures, impressive snowmaking and natural snowfall Whistler Mountain will open five days early on Saturday, November 17. With five lifts running, guests will have the option to upload from either the Whistler Village Gondola or the Creekside Gondola. Blackcomb Mountain will open, as scheduled, on American Thanksgiving, Thursday, November 22, 2012.
"In addition to new snow and a great forecast lining up towards the end of this week, our fleet of 220 state-of-the-art snow guns has converted over 70 million gallons of water into snow over the past few weeks. This ensures excellent on-piste coverage for quality skiing and riding on opening day," says Doug MacFarlane, mountain manager at Whistler Blackcomb. "Despite the amount of snow we have made, we want to remind guests early season conditions will apply, especially off piste. It is important to obey mountain signage, ski and ride on open runs only and stay within the operational area marked by "Temporary Boundary" signage. Guests should be aware there will be rocks and other hazards below the snow surface; we do not recommend skiing and riding outside the temporary boundary in any circumstances."
First upload on the Whistler Village Gondola and Creekside Gondola will begin at 8:30 a.m. on November 17. Emerald Express, Big Red Express and the Franz Chair lifts will also be running, giving guests access to 1800 vertical feet of skiing and riding terrain. Six ski runs will be open, including Ego Bowl, Upper Whiskey Jack, Upper Franz, Papoose, Orange Peel and Pony Trail. For the most up-to-date information about lift status, visit www.whistlerblackcomb.com/the-mountain/lifts-and-grooming/index.
This year, Whistler Blackcomb has set the bar high for opening day festivities. Along with a surprise musical act for guests waiting in line at the Whistler Village Gondola, the first 1500 people to upload either gondola will receive a gift. Tokens will range from hot chocolates to big ticket items like EDGE Cards, Snow School lessons, retail and rental gifts and surprises from partners including, Scandinave Spa Whistler, The Adventure Group Whistler, Extremely Canadian, Canadian Snowmobile, Coast Mountain Photography, CAN-SKI, Showcase, Powerade and Milk2Go.
Whistler Mountain dining locations will also be open on November 17, including Essentially Blackcomb Cappuccino Bar in the Carleton Lodge, Dusty's Bar & Grill in Creekside, the Roundhouse Lodge on Whistler Mountain, and the Garibaldi Lift Co., Whistler's world-famous location for après.
The latest version of Whistler Blackcomb's Live Pass, Powered by TELUS app will be available for download for iPhone and Android from the Apple store and Google Play at 8 p.m. on Tuesday, November 13. The app allows skiers and riders to track their runs using GPS, share their speed and vertical as well as take and share photos with friends via Twitter and Facebook. More information can be found at whistlerblackcomb.com/app.
Beginning November 16, Whistler Blackcomb's Snow Report will be updated daily throughout the season and can be accessed online or by calling 604-932-4211 in Whistler, 604-687-7507 in Vancouver, or toll-free at 1-800-766-0449.
For Canadian and Washington State residents, Whistler Blackcomb offers the EDGE Card, allowing guests to ski/ride from $65 (CDN) a day. EDGE Cards are valid for use all season long, and are available at early bird pricing until November 19 at whistlerblackcomb.com/save.
Guests interested in planning a trip to Whistler can take advantage of the Early Season Winter Deal which includes two nights lodging and a two day lift ticket deal from $109 per person, per night. To book a trip to the No. 1 rated mountain resort in North America can visit whistlerblackcomb.com/lodgingdeals or call 1-888-403-4727.

http://www.whistlerblackcomb.com/