イタリアで開催されたジュニアのスノーボードの祭典、World Rookie Fest 2017。
将来のオリンピック選手候補、世界のジュニアをチェックしてみよう!
The future of snowboarding looks bright here in Livigno at the Mottolino Snowpark, at the 12th edition of the World Rookie Fest. Under a beautiful blue sky, with perfect winter scenery and amazing snow conditions, the best 44 riders out off the 144 registered athletes showed their skills in three final runs, where the best run counting.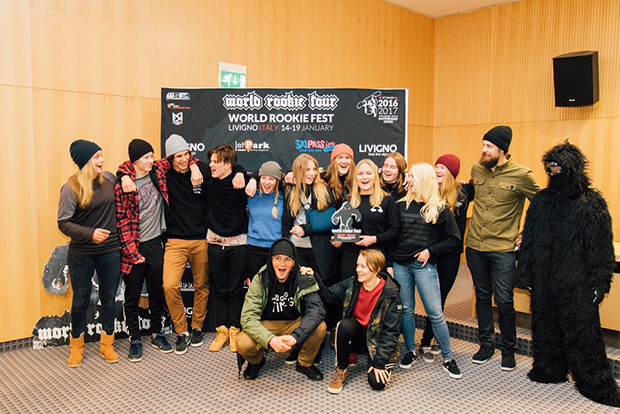 The girls started first and Margherita Meneghetti from Italy landed on the Rookie top spot today with her first run which included a lipslide on the downrail, frontside 540 indy on the kicker line, switch rock&roll and 50-50 boardslide 180 out on the last rails.
Birkir Georgsson from Island scored best in today's contest with a solid run, winning Rookie's division with his 94,6 points. He landed a boardslide to frontslide boardslide to 270 out on the downrail, double 1080 mute on the kicker line, stall and cab 270 on 270 out on the last jibbing obstacles.
Valtteri Kautonen from Finland won his first World Rookie Fest in the Groms' category with a score of 84,4 in his third run landed cab 180 on 50-50 boardslide 360 out on the downrail, frontside 1080 tailgrab, 50-50 stall and a frontside 270 on 270 out on the last features.
****************************************¬************
► Abonnieren/subscribe: http://goo.gl/8XgSFa
► Facebook: http://goo.gl/plspsr
****************************************¬***********
Die Zukunft des Snowboardens ist gesichert. Die 12. Ausgabe des World Rookie Fest in Livigno (ITA) fand im Mottolino Snowpark, unter strahlendblauem Himmel und perfekten Schneebedingungen, statt.
44 Rider, der insgesamt 144 teilnehmenden Sportler, qualifizierten sich für die drei finalen Läufe, bei denen der Beste in die Wertung ging. Margherita Meneghetti (ITA) sicherte sich bei den Rookie-Women den ersten Platz. Birkir Georgsson (ISL) holte sich den Sieg bei den Rookie-Men und Valtteri Kautonen (FIN) dominierte die Grom-Men Kategorie.