ライダーズ・ドライビンの大会、ALE INVITE 2015がスウェーデンで開催される。
この大会を行うのは、トアとケビンのバックストローム兄弟だ。
すでに招待選手も決まっていて、ぜひ日本にもこの大会のことを知ってほしい、というリリースが来た!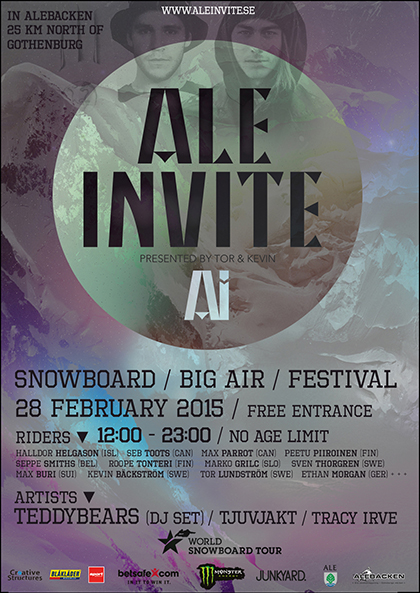 Ale invite is a Big Air contest / Festival in Ale, only 20 km north of Gothenburg, Sweden and will take place for the first time on the 28th of February 2015. Some of the best snowboarders on this planet will fight for the 20,000 USD prizepurse. It's not only a snowboard contest; there's live bands playing on stage, Burton Riglet Park and a smaller Big Air Jump in the kids corner, local food, drinks and a hell of good atmosphere. And the best part of it all, IT'S FREE, so just bring your friends, family and a big smile.
Go to our website http://www.aleinvite.se/ for all riders and artists.
Facebook page: https://www.facebook.com/aleinv
Facebook event: https://www.facebook.com/events/39571…
Instagram: @aleinvite #aleinvite
http://instagram.com/aleinvite
Ale Invite is a big family event with no age limit!