今、世界で一番滑れるエリアがあるスキー場は、どうでしょう?
答えたは、今日、ブラッコムがオープンした、ウィスラー&ブラッコムだ!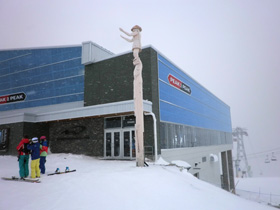 ウィスラーとブラッコムを結ぶピーク・トゥ・ピークも本日オープン!
今日、ブラッコムがオープンしたことで、滑れるエリアはなんと4300エイカーにも達したのだ。まさにこの時期にして、クレイナーな領域を滑れるスペシャルなスキー場である。
ウィスラー、ブラッコムは、このことを高らかに宣言した。
WHISTLER BLACKCOMB IS OPEN OFFERING MOST SKIABLE TERRAIN IN THE WORLD
Blackcomb Mountain's Opening Day Increases Skiable Terrain to 4,300 acres, 4,085 Feet of Vertical
WHISTLER, BC, November 24, 2011 – Blackcomb Mountain opened today, joining Whistler Mountain which opened six days early on November 18. 4,300 acres and over 4,085 vertical feet of skiing and riding is currently available, more than anywhere else in the world at this time. Currently 13 lifts, one full terrain park line, and a 15 foot half pipe are open.
"We are very excited to open Blackcomb Mountain with such incredible snow conditions and coverage," explained Doug Macfarlane, Mountain Manager of Whistler Blackcomb. "To be able to offer 4,300 acres in November is really exciting, and offers our guests an amazing experience on both mountains."
Cumulatively this November, 237cm (7.7 feet) of snow has fallen, surpassing the average November snowfall of 165cm (5.4 Feet). Another 85cm (2.8 feet) of snow is forecasted to fall by Monday.
Seven lifts are currently in operation on Blackcomb Mountain including the Excalibur Gondola, Wizard Chair, Solar Coaster Chair, Excelerator Chair, Catskinner Chair, Crystal Chair and Jersey Cream Chair. The Whistler Village Gondola, Creekside Gondola, Emerald Express, Garbanzo Express and Big Red Express will be running on Whistler Mountain bringing the total lifts in operation to 13, including the PEAK 2 PEAK Gondola. Skiing and riding will available right to the village this weekend, one of the earliest dates that a ski out has been available.
With all of the snow, early season conditions still apply. It is extra important all mountain signage is obeyed and guests stay within the marked operational boundary. Please be aware of rocks and other hazards below the snow surface. Our Patrol and Operations teams are hard at work to get more terrain safely opened as quickly as possible.
The Snow Report, powered by TELUS, is updated three times daily and can be heard online or by calling 604-932-4211 in Whistler, 604-687-7507 in Vancouver, or toll-free at 1-800-766-0449.



http://www.whistlerblackcomb.com/