フィンランドを代表するレール・リッパーとして知られるフレディ・シルビオが、Rough Snowboardsライダーになった!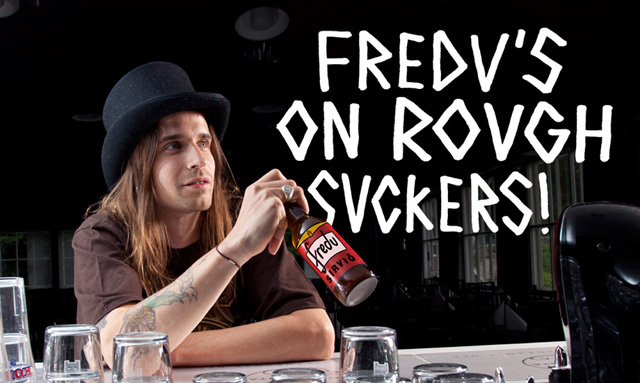 THE FINNISH RAIL REAPER IS ON ROUGH SNOWBOARDS
We had promised another sick news for the beginning of the season, and here it is!
Starting from this season Fredu Sirvio, "The Finnish rail Reaper" will officially be part of the ROUGHsnowboards team.
Back in 2004, when we were laying the foundations of ROUGH snowboards, Fredu was the new kid on the block. His super recognizable style
and his incredible bag of new tricks immediately blew our minds. Today Fredu's definitely the roughest rider we know and we're fucking proud
he jumped in our small hut. He really embodies ROUGH snowboards' approach to the industry. When asked about is feelings after we signed the
contract in Helsinki last spring, this is what he had to say:
"Ive always wanted to ride for core companies that keep snowboarding real.
Snowboarding is all about friends, progression, having fun and attitude.
With Rough Ive finally found the company that keeps it real and does things their own way. Thats how I like to do it too.
Im really excited to ride for Rough Snowboards and be part of their amazing team! Rock n roll! -Fredu "
As you will see in the attached edit, Fredu's pro model deck is still top secret, but be sure you will soon see him rip up some sick spot riding it.
At ROUGH, we have never been so stoked as now we are releasing this bomb.
Fredu's on ROUGH, suckers!

Fredu's on Rough Suckers! from Rough Snowboards on Vimeo.


http://www.roughsnowboards.com/