先月、ウィスラーでThe Shred Showを盛り上げたMonster軍団が、今度はアルバータ州のレイクルイーズでRuckus In The Rockiesを開催!
この大会フォーマットはおもしろい。
まずはタッグ戦。スロープスタイルのようなコースだが、パートナーと共に同時にスタートしてパフォーマンスを繰り広げていく。
勝ち残ったマーク・ソラーズ、ダスティン・クレイバンが、今度は一騎討ちで優勝を争うというもの。
そして、もちろんイベントの後には、パーティで盛り上げる。
くわしく様子は、以下の動画でチェックしよう!
Beastie Boys megamix by Z-trip. Download "All-Access A Beastie Boys Megamix" here: http://ztrip.bandcamp.com
The 2nd annual Ruckus in the Rockies went off in Lake Louise on Cinco de Mayo 2012. Conceived as a fun spring team challenge, snowboarders partnered up and competed head to head until just two teams were left standing. These two teams battled it out to name the winning team, which was then split and made to compete against each other! The duo of Mark Sollors and Dustin Craven battled their way to the top and then faced each other in the final. Monster´s own Mark Sollors won a 2012 Kawasaki KX250F under blue skies and beautiful spring weather.
It takes a pretty huge party to follow a snowboard event as cool as Ruckus in the Rockies. Luckily Monster brought together a huge lineup of some of the best Djs in the world to make sure that happened. If you've never experienced 80 thousand watts of soul-shuddering bass, controlled by a master of his craft, it's hard to explain the power and energy in the room for the Ruckus in the Rockies afterparty.
The night started out with an amazing set by Pump and Illo and then moved on to the turntable mastery and heavy bass of Mat the Alien. Z-trip hit the stage last and showed everyone why he is the best party rocking DJ in the world. The sold-out crowd was treated to an epic set of Z-trip's unique mix of classic and modern.
The real magic happened after most folks thought the show was over though. Mat the Alien and Pump joined Z-trip on the stage for a 15-minute scratch collaboration that had even the most jaded in the crowd bouncing and screaming. Truly an epic representation of spontaneous turntablism.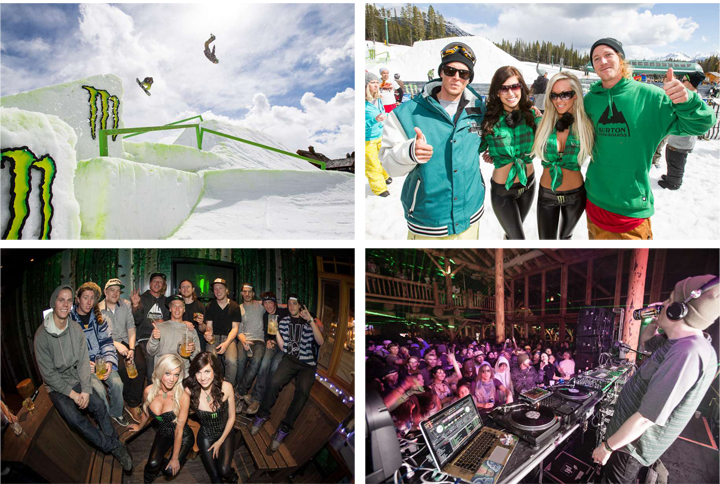 以下、このイベントの詳細ページへ
http://www.monsterenergy.com/ca/en/events/ruckus-in-the-rockies-2012/